Static-Eliminating

Blowguns
Eliminate static charges and guard against ESD (electrostatic discharge) in electronics assembly and clean room applications. This blowgun requires a clean, dry air supply. A filter at the nozzle tip ensures that the air is clean. Gun conforms to OSHA 29 CFR 1910.242 requirements for maximum air outlet pressure. Volume (dB) is measured 3 ft. from the blowgun at 100 psi.

Nozzle


Lg.

Air
Consumption

Volume,


dB
Static
Neutralizing
Distance
Removes Particle
Size Down


To,

microns

Max.

Inlet


Pressure,


psi
Pipe
Size

Thread
Type
Gender
Nozzle
Tip
Material
Voltage
Environmental
Rating
Specifications
Met
Each

Straight

7

7/8

"
7.4 cfm @ 100 psi
97
4"-10"
0.01
100

1/4

NPT

Female
Nickel Alloy
120V AC
Fed. Std. Class 1,000; ISO Class 6
OSHA Compliant 29 CFR 1910.242
00000000
000000000
Clean Rooms
Create a contaminant-free environment for your critical work with these soft-wall clean rooms. All are rated Class 100,000 clean rooms because they come furnished with motorized, UL Listed HEPA filters that are good for food and semiconductor applications. To create a Class 10,000, Class 1,000, or Class 100 clean room, remove the ceiling panel(s) and add additional motorized filter modules (sold separately). Note: Use the chart to determine how many filters you will need to reach your desired rating.
Each clean room has a frame, four walls that overlap each other by 6" for easy entry and exit, recessed LED light fixtures, and a wiring kit. Optional strip doors (sold separately) make it easier for people with carts to enter and exit the clean room.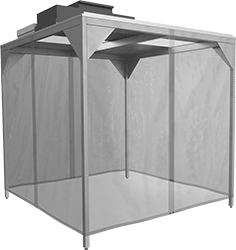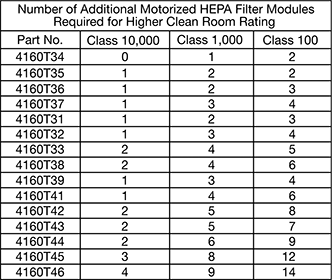 Ht.

Wd.

Dp.

Airflow,


cfm
Removes Particle
Size Down


To,

microns
Filter
Efficiency @


0.3

Microns
Voltage

Frequency,


Hz

Thick.,


mil
Material
Ceiling
Floor

Thick.

Material
Color
Specifications
Met
Each
112"
75"
75"
650
0.3
99.99%
120V AC
60
40
Vinyl
2"
6"

1/8

"
Steel
White
UL Listed

0000000
000000000
112"
75"
99"
650
0.3
99.99%
120V AC
60
40
Vinyl
2"
6"

1/8

"
Steel
White
UL Listed

0000000
00000000
112"
75"
123"
650
0.3
99.99%
120V AC
60
40
Vinyl
2"
6"

1/8

"
Steel
White
UL Listed

0000000
00000000
112"
75"
147"
650
0.3
99.99%
120V AC
60
40
Vinyl
2"
6"

1/8

"
Steel
White
UL Listed

0000000
00000000
112"
99"
99"
650
0.3
99.99%
120V AC
60
40
Vinyl
2"
6"

1/8

"
Steel
White
UL Listed

0000000
00000000
112"
99"
123"
650
0.3
99.99%
120V AC
60
40
Vinyl
2"
6"

1/8

"
Steel
White
UL Listed

0000000
00000000
112"
99"
147"
650
0.3
99.99%
120V AC
60
40
Vinyl
2"
6"

1/8

"
Steel
White
UL Listed

0000000
00000000
112"
99"
195"
1,300
0.3
99.99%
120V AC
60
40
Vinyl
2"
6"

1/8

"
Steel
White
UL Listed

0000000
000000000
112"
123"
123"
1,300
0.3
99.99%
120V AC
60
40
Vinyl
2"
6"

1/8

"
Steel
White
UL Listed

0000000
00000000
112"
123"
147"
1,300
0.3
99.99%
120V AC
60
40
Vinyl
2"
6"

1/8

"
Steel
White
UL Listed

0000000
000000000
112"
123"
195"
1,300
0.3
99.99%
120V AC
60
40
Vinyl
2"
6"

1/8

"
Steel
White
UL Listed

0000000
000000000
112"
147"
147"
1,300
0.3
99.99%
120V AC
60
40
Vinyl
2"
6"

1/8

"
Steel
White
UL Listed

0000000
000000000
112"
147"
195"
1,950
0.3
99.99%
120V AC
60
40
Vinyl
2"
6"

1/8

"
Steel
White
UL Listed

0000000
000000000
112"
147"
243"
1,950
0.3
99.99%
120V AC
60
40
Vinyl
2"
6"

1/8

"
Steel
White
UL Listed

0000000
000000000
112"
147"
291"
1,950
0.3
99.99%
120V AC
60
40
Vinyl
2"
6"

1/8

"
Steel
White
UL Listed

0000000
000000000
Additional Motorized Filter Modules
Removes Particle Size
Down

To,

microns
Filter Efficiency
@

0.3

Microns

Ht.

Wd.

Dp.

Voltage

Frequency,


Hz
Specifications
Met
Each
0.3
99.99%
14

1/4

"
23

5/8

"
47

5/8

"
120V AC
60
UL Listed

0000000
000000000