Clean Room Finger Cots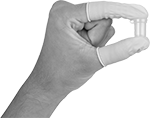 Protect objects in your clean room from skin oil and other contaminants when dexterity is essential and full hand coverage is not needed. Cleaned and bagged in clean environments, these powder-free, unlined cots won't contaminate your work area.
Static-control cots minimize the buildup of electrostatic charge to protect sensitive equipment from damage. The lower the surface resistivity, the faster and more effectively cots drain electrical charge.
Latex cots are the most form fitting. They're good for jobs that require tactile precision.
Nitrile cots are a good alternative for those concerned with latex allergies.
Textured-surface cots provide a better grip than smooth cots.
Environmental
Rating
Surface
Liner
Type

Thick.,


mil
Color
Surface
Resistivity
Choose
a
Size

Pkg.




Qty.

Pkg.

Cots

Latex Rubber

Fed. Std. Class 100, ISO Class 5
Textured
Powder Free
3
Beige
__
720
0000000
000000

Latex Rubber

Fed. Std. Class 100, ISO Class 5
Textured
Powder Free
3
Pink
1 × 1012 ohms
720
0000000
00000
Fed. Std. Class 100, ISO Class 5
Textured
Powder Free
5
Pink
1 × 1012 ohms
720
0000000
00000

Nitrile Rubber

Fed. Std. Class 100, ISO Class 5
Smooth
Powder Free
3

1/2

White
1 × 109 ohms
720
000000
00000