Clean Room Shoe Covers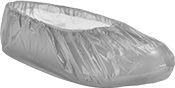 Polyethylene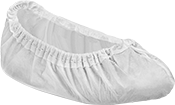 Polypropylene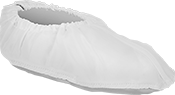 Polyester
Keep dust and other particles on your shoes from contaminating clean rooms. These covers have an elastic band that keeps them in place once they're on. Made of lightweight fabric, they won't weigh you down. They're also water resistant, so your feet stay dry in wet areas.
Polyethylene and polypropylene covers are disposable. They stretch to fit over most shoes (up to men's size 15). To keep contaminants off of your hands, apply and remove them with Dispensers and Removers for Clean Room Shoe Covers. They're quick, hands-free, and you don't need to bend down to use them. Polyethylene covers are best for short-term use. For long-term wear, use polypropylene covers—they're more durable than polyethylene. They also have a skid-resistant sole that's coated to keep you from sliding on slick floors. These covers won't generate a static charge, so they're safe to use around sensitive electronic equipment.
Reusable when laundered to clean room standards, polyester covers resist abrasion and liquid splashes. They last up to 100 washes; wash them prior to first use. These covers have adjustable snaps, so you can create a secure and comfortable fit around your shoe.
For

Men's


Shoe Size
For

Women's


Shoe Size
4 - 5

1/2

6 - 7

1/2

6 - 7

1/2

8 - 9

1/2

8 - 9

1/2

10 - 11

1/2

10 - 11
12 - 13
11

1/2

- 12

1/2

13

1/2

- 14

1/2

13 - 14
15 - 16
15 - 16
17 - 18
One Size
One Size
Environmental
Rating
Height
Closure
Type
Features
Color
Choose
a

Men's


Shoe Size

Pkg.




Qty.

Pkg.

Polyethylene Fabric

Fed. Std. Class 100, ISO Class 5
5

5/8

"
Elastic
__
Blue
One Size
55
0000000
000000

Polypropylene Fabric

Fed. Std. Class 100, ISO Class 5
5

5/8

"
Elastic
Skid-Resistant Sole
White
One Size
40
0000000
00000
Pair

Polyester Fabric

Fed. Std. Class 1,000, ISO Class 6
3

1/4

"
Elastic, Snap
__
White
__
0000000
00000