Low-Temperature

Strip Doors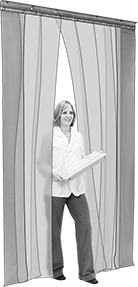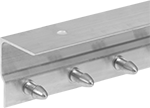 Press On
Often hung in freezers, these doors can be used in food-service environments. They allow personnel and vehicles to move freely through doorways while keeping heated or cooled air in and dirt, dust, and debris out. These strip doors consist of a mounting plate and vinyl strips. The strips overlap each other to prevent gaps and come in different widths. Narrow strips are easier to pass through while wider strips create a better seal.
Doors with a plastic mounting plate have a shield that covers strips and pegs so that dust won't collect.
Press-On Strip Mounting Plate—Press strips onto pegs for quick installation.
Wd.

Ht.

No.

of
Strips
Overlap

Mount.

Hole


Ctr.-to-Ctr.

Color
For Use
Outdoors

Temp.




Range,

°F

Material

Mount.

Fasteners
Included
Each

Press On

6"

Wd.

×

0.06"

Thick.

Strips

3'4"
6'8"
10
2"
2"
Clear
Yes
-20° to 140°
Plastic
Yes
0000000
0000000
3'4"
7'2"
10
2"
2"
Clear
Yes
-20° to 140°
Plastic
Yes
0000000
000000

8"

Wd.

×

0.08"

Thick.

Strips

3'4"
6'8"
7
2"
2"
Clear
Yes
-20° to 140°
Plastic
Yes
0000000
000000
3'4"
7'2"
7
2"
2"
Clear
Yes
-20° to 140°
Plastic
Yes
0000000
000000