How to

Identify and Measure Fittings
Pipe size is an industry designation, not the actual size. View information about how to measure threaded and unthreaded pipe and pipe fittings.
Cleaned and Bagged
Yor-Lok

Fittings for Stainless Steel Tubing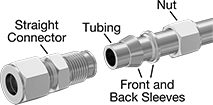 For Use

With:

Air,

Cutting

Oil,

Fuel

Oil,

Gasoline,

Hydraulic

Fluid,

Mineral

Oil,

Natural

Gas,

Steam,

Water
Temperature

Range:

-420° to 1200° F

Tubing:

Use with seamless or welded

304/304L

or

316/316L

stainless steel that meets ASTM

A213,

ASTM

A249,

or

ASTM A269
For applications that require an extra level of cleanliness, these fittings are individually bagged to prevent contamination. They include a nut with two sleeves (ferrules) for extra gripping power. The sleeves bite into tubing as you tighten the nut, creating a strong seal. Also known as instrumentation fittings, they are made to tight tolerances for use in high-precision applications. They are compatible with Swagelok®, Let-Lok, or A-Lok fittings. Fittings are 316 stainless steel for excellent corrosion resistance. Replacement nuts and sleeves are not cleaned and bagged.
For technical drawings and 3-D models, click on a part number.