Warning: Products have one, but not necessarily all, of the selected characteristics.
Specifications Met

Specifications Met
RoHS (Restriction of Hazardous Substances)

RoHS

(Restriction

of
Hazardous

Substances)
REACH (Registration, Evaluation, Authorization and Restriction of Chemicals)

REACH

(Registration,




Evaluation,

Authorization
and Restriction of

Chemicals)
DFARS (Defense Acquisition Regulations Supplement)

DFARS

(Defense

Acquisition

Regulations

Supplement)
Natural Light
Flaw-Detection

Kits
Use colored dye to reveal cracks and surface flaws in most nonporous material. Flaws become visible under natural light and appear as a bright red color. Commonly used for weld inspecting.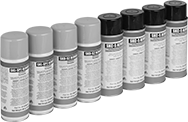 | | | | | |
| --- | --- | --- | --- | --- |
| For Use On | Includes | Specifications Met | | Each |
| Carbide, Cast Iron, Ceramic, Stainless Steel, Steel | Four 16-oz. Aerosol Cans of Cleaner, Two 16-oz. Aerosol Cans of Developer, Two 16-oz. Aerosol Cans of Red Dye | ASTM E1417, MIL-STD-2132, MIL-STD-271, SAE AMS2644 | 000000 | 0000000 |