Container Type

Container Type
Warning: Products have one, but not necessarily all, of the selected characteristics.
Manufacturer Series

Manufacturer Series
Specifications Met

Specifications Met
DFARS (Defense Acquisition Regulations Supplement)

DFARS

(Defense

Acquisition
Regulations

Supplement)
Simple Green Degreasers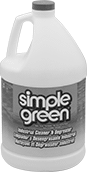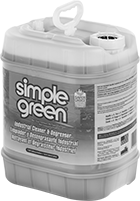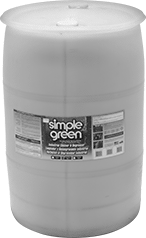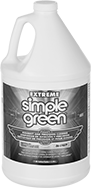 Biodegradable and nonflammable, these water-based degreasers cut through grease and oils without harsh chemicals.
Extreme Aircraft and Precision Simple Green degreasers don't contain any corrosive chemicals. Use them to maintain structural metal, hose, seals, and factory finishes.
Type
Size
Composition
Harshness
For
Use
On
For
Removing
Specifications
Met
Scent
Each

Pkg.




Qty.

Pkg.

Extreme Aircraft and Precision Simple Green

Liquid

Spray Bottle
16 oz.
Water Based
Moderate
Acrylic Plastic, Aluminum, Carbon Fiber, Ceramic, Chrome, Concrete, Galvanized Steel, Iron, Paint, Rubber, Stainless Steel, Steel
Dirt, Grease/Oil, Scuff Marks
Boeing D6-17487P
Unscented
00000000
00000
12
00000000
000000
Spray Bottle
32 oz.
Water Based
Moderate
Acrylic Plastic, Aluminum, Carbon Fiber, Ceramic, Chrome, Concrete, Galvanized Steel, Iron, Paint, Rubber, Stainless Steel, Steel
Dirt, Grease/Oil, Scuff Marks
Boeing D6-17487P
Unscented
00000000
00000
12
00000000
000000
Jug
1 gal.
Water Based
Moderate
Acrylic Plastic, Aluminum, Carbon Fiber, Ceramic, Chrome, Concrete, Galvanized Steel, Iron, Paint, Rubber, Stainless Steel, Steel
Dirt, Grease/Oil, Scuff Marks
Boeing D6-17487P
Unscented
00000000
00000
4
00000000
00000
Jug
5 gal.
Water Based
Moderate
Acrylic Plastic, Aluminum, Carbon Fiber, Ceramic, Chrome, Concrete, Galvanized Steel, Iron, Paint, Rubber, Stainless Steel, Steel
Dirt, Grease/Oil, Scuff Marks
Boeing D6-17487P
Unscented
00000000
00000
__
000000
00
Drum
55 gal.
Water Based
Moderate
Acrylic Plastic, Aluminum, Carbon Fiber, Ceramic, Chrome, Concrete, Galvanized Steel, Iron, Paint, Rubber, Stainless Steel, Steel
Dirt, Grease/Oil, Scuff Marks
Boeing D6-17487P
Unscented
00000000
000000
__
000000
00