Warning: Products have one, but not necessarily all, of the selected characteristics.
DFARS (Defense Acquisition Regulations Supplement)

DFARS

(Defense

Acquisition
Regulations

Supplement)
Container Type

Container Type
Specifications Met

Specifications Met
Thin Film and Label Application Primers



Smoothing Tool
Spray these primers onto a mounting surface to quickly and smoothly apply signs, labels, and protective films. These primers float adhesive-backed sheets above a surface until you press them down, giving you time to position the sheet and remove any wrinkles. Since the sheet doesn't stick right away, you can apply large sheets without needing a second pair of hands. These primers also work with non-adhesive films. Even in hot or cold temperatures, your sheet will stay put.
Clean the mounting surface with primer before applying a film, so no residue is trapped underneath. Use a smoothing tool (sold separately) to squeeze out air bubbles and excess fluid. Drying time depends on application—most decals and films will dry within 90 seconds, but 3D printer sheets should dry for 24 hours before printing.
Natural Light
Flaw-Detection

Kits
Use colored dye to reveal cracks and surface flaws in most nonporous material. Flaws become visible under natural light and appear as a bright red color. Commonly used for weld inspecting.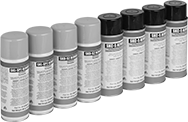 | | | | | |
| --- | --- | --- | --- | --- |
| For Use On | Includes | Specifications Met | | Each |
| Carbide, Cast Iron, Ceramic, Stainless Steel, Steel | Four 16-oz. Aerosol Cans of Cleaner, Two 16-oz. Aerosol Cans of Developer, Two 16-oz. Aerosol Cans of Red Dye | ASTM E1417, MIL-STD-2132, MIL-STD-271, SAE AMS2644, Sulfur-Chlorine-Halogen Requirements | 000000 | 0000000 |
UV Light

Flaw-Detection

Kits
More sensitive than natural light kits, these kits use UV light with colored dye to detect cracks, seams, and pores on machined surfaces.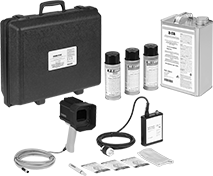 For
Use
On
Includes
Bulb
Type
Wattage
Voltage
Electrical
Connection
Type
Plug
Type
Cord


Length,




ft.

Specifications
Met
Each
Carbide, Cast Iron, Ceramic, Stainless Steel, Steel
One 1-gal. Jug of Fluorescent Green Dye, One 16-oz. Can of Developer, Two 16-oz. Aerosol Cans of Cleaner, UV Light
Ultraviolet
5W
120V AC
Plug In
Three Prong
9
ASTM E1417, MIL-STD-2132, MIL-STD-271, SAE AMS2644, Sulfur-Chlorine-Halogen Requirements
0000000
000000000