Miniature Wipes and Cleaning Rods

Miniature Wipe with Cleaning Rod
(Sold Separately)
Also known as cleaning patches, these mini wipes can be used alone or with cleaning rods (sold separately) to clean inside small or narrow openings. To use with the rod, fold wipe through the looped tip on the end of the rod.
Textured wipes are abrasive for more aggressive cleaning.
Sewer Pipe Cleaners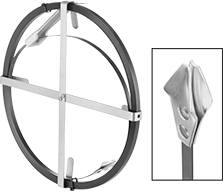 Push these kink-resistant spring wire rods through straight sewer pipes to remove blockages. Not for use with sink or toilet drains.
Cable-Style

Toilet Drain Cleaners


Bulb Head

Drop Head
Also known as toilet augers, these cleaners have a plastic guard joining the rod and cable to prevent damage to your toilet.
Drop head has a jointed connection to maneuver through bends in pipe.