REACH (Registration, Evaluation, Authorization and Restriction of Chemicals)

REACH

(Registration,




Evaluation,

Authorization
and Restriction of

Chemicals)
RoHS (Restriction of Hazardous Substances)

RoHS

(Restriction

of
Hazardous

Substances)
DFARS (Defense Acquisition Regulations Supplement)

DFARS

(Defense

Acquisition
Regulations

Supplement)
Disposable Masks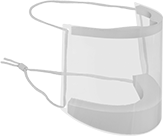 Clear Elastic
These masks are lightweight and easy to breathe through. They provide light protection against liquids.
Masks with elastic closures have ear loops, making it easy to slip masks on and off.
Masks with a clear lens help people see your facial expressions and read your lips when audible cues are insufficient. The lens has a film that prevents fogging. For a comfortable and secure fit, these masks have foam padding. Their elastic straps go over the head and are adjustable, so the fit is more personalized than other masks with elastic closures.
Material
Construction
Color
Features

Pkg.




Qty.

Pkg.

Elastic

Plastic
Solid
Clear
Adjustable Straps, Clear Lens, Foam Padding, Fog-Free Lens
24
00000000
000000