Conveyor Safety Labels
Identify hazards and unsafe practices that can injure workers around conveying equipment. These labels meet CEMA Brochure No. 201 standards and have headers and safety colors that meet OSHA/ANSI standards for indicating hazards.
Danger headers are typically used in extreme conditions to indicate an imminently hazardous situation that, if not avoided, will result in death or serious injury.
Danger—Climbing, Sitting, Walking or Riding on Conveyor at Any Time Will Cause Severe Injury or Death—Keep Off (English)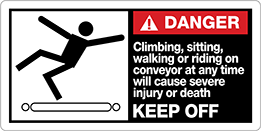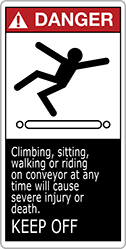 Mount
Type
Material
Specifications
Met

Pkg.




Qty.

Ht.

Wd.

Pkg.

Horizontal

Adhesive Back
Polyester Plastic
ANSI Z535, CEMA Brochure No. 201, OSHA Compliant 29 CFR 1910.145
10
2

1/2

"
5"
00000000
000000

Vertical

Adhesive Back
Polyester Plastic
ANSI Z535, CEMA Brochure No. 201, OSHA Compliant 29 CFR 1910.145
10
6"
3"
00000000
00000