Low-Scratch

Tube Scrapers

Coiled Flat Wire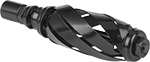 Spiral Blade
Break down tube buildup without scratching. These sharp, rigid scrapers are for soft and hard deposits.
Spiral-blade scrapers are self-sharpening and use spring tension to exert pressure.
Tube Scrapers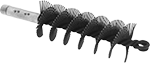 Flat Wire

Round Wire
Break down hard, heavy deposits and tube buildup with these sharp, rigid scrapers.
Flexible Tube Brushes for
Closed-End

Holes

Bend these brushes through curved holes and reach into corners. Bristles at the top clean the bottom of closed-end holes. A flexible spring surrounds the bristles to prevent them from flaring during use. As the brush wears, trim the spring.
Caution: Insert the brush into the workpiece before turning on your power tool. If used outside a hole, the brush could break off and become a dangerous projectile.
Electric Tube Cleaners
Force out tough tube blockages with these powered cleaners. Pair the tube cleaner with a flexible shaft and then attach a brush or scraper to the shaft (each component sold separately). Water flows past the shaft to flush out loosened deposits. To power the cleaner, connect a three-prong (NEMA 5-15) extension cord.
Brushes remove soft deposits and light scale. The bristles won't leave behind debris that could cause rust on your workpiece. Match the brush diameter to your tube ID.
Scrapers remove light-to-medium deposits.
Flexible shaft with adapters connects to brushes with 8-32 and 12-24 female threads. Not for use with scrapers.
Air Conditioner

Coil Cleaning Brushes

Brush


Lg.

Overall


Lg.

Bristle Material
Handle Material
Each
20"
26"
Polypropylene Plastic
Thermoplastic Rubber
0000000
00000