Humidity-Indicating

Cards

Check humidity levels of moisture-sensitive inventory and equipment at a glance. To detect moisture exposure when packaging, shipping, and storing electronics and chemicals, these cards have dots that change color as humidity levels change. Store electronics in a moisture barrier bag with one of these cards and a desiccant bag (bags not included). To revert these cards to their original color, place them in a dry container for 24 hours or bake at 180° F for 3 hours. Cards will not revert to their original color once they reach 60% or greater humidity. They meet industry guidelines for packaging moisture-sensitive devices.
Humidity-Indicating

Cards with Calibration Certificate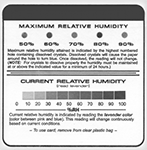 Monitor current humidity levels in addition to maximum humidity exposure with these humidity-indicating cards that include a calibration certificate traceable to NIST that states they've passed a test for accuracy. The maximum humidity scale has dots that permanently change color when the humidity level reaches each humidity point. The current humidity scale is reversible and changes color as humidity increases or decreases.
Current
Relative
Humidity Point

Max.

Relative
Humidity
Point
Accuracy
Container
Type

Ht.

Wd.

Current
Relative
Humidity

Max.


Relative
Humidity

Pkg.




Qty.

Pkg.

10%, 20%, 30%, 40%, 50%, 60%, 70%, 80%, 90%, 100%
50%, 60%, 70%, 80%, 90%
±5%
Box
4"
4"
Continuous
One Time
2
0000000
000000
Humidity-Indicating

Plugs
Plug

Plug with Reverse Mounting


20%,
30%,
40%
Pie-Style
Indicator

20%,
30%,
40%,
50%
Pie-Style
Indicator

20%,
40%,
60%
Pie-Style
Indicator

30%,
40%,
50%
Pie-Style
Indicator

30%,
40%,
50%.
60%
Pie-Style
Indicator

20%,
30%,
40%,
50%
Spot-Style
Indicator
Monitor humidity in sealed containers without opening them, protecting the inside from contamination. These plugs are often used on plastic bags, storage containers, and electrical housings. Consisting of a mounting nut and two gaskets for a tight seal, these plugs install through a hole in a flexible barrier. Remove one gasket and reverse the nut to install plugs in a rigid container. Watch the indicator disc through the nut's viewing window—it will change color as humidity rises and falls. Made of anodized aluminum, these plugs resist corrosion and are lightweight. They meet military and SAE standards for humidity indicators.
The viewing window on reverse-mounting plugs is on the threaded side, so the nut will be threaded on the outside of your container. They're easier to install than standard plugs.
For technical drawings and 3-D models, click on a part number.
Humidity
Points
Accuracy
Height
Width
For
Hole
Diameter
Type
Size
Indicator
Use
Features
Specifications
Met
Each

Anodized Aluminum

20%, 30%, 40%
±5%

5/8

"
1

3/8

"
1.05"
NPS

3/4

"-14
Reversible
__
MIL-I-8835; SAE AS26860 Type 2
0000000
000000
20%, 30%, 40%
±5%

5/8

"
1

3/8

"
1.05"
NPS

3/4

"-14
Reversible
Reverse Mounting
MIL-I-8835; SAE AS26860 Type 2
000000
00000
20%, 30%, 40%, 50%
±5%

5/8

"
1

3/8

"
1.05"
NPS

3/4

"-14
Reversible
__
MIL-I-8835; SAE AS26860 Type 2
0000000
00000
20%, 40%, 60%
±5%

5/8

"
1

3/8

"
1.05"
NPS

3/4

"-14
Reversible
__
MIL-I-8835; SAE AS26860 Type 2
0000000
00000
30%, 40%, 50%
±5%

5/8

"
1

3/8

"
1.05"
NPS

3/4

"-14
Reversible
__
MIL-I-8835; SAE AS26860 Type 2
0000000
00000
30%, 40%, 50%, 60%
±5%

5/8

"
1

3/8

"
1.05"
NPS

3/4

"-14
Reversible
__
MIL-I-8835; SAE AS26860 Type 2
0000000
00000
20%, 30%, 40%, 50%
±5%

5/8

"
1

3/8

"
1.05"
NPS

3/4

"-14
Reversible
__
MIL-I-8835; SAE AS26860 Type 2
0000000
00000
20%, 30%, 40%, 50%
±5%

5/8

"
1

7/8

"
1.45"
UNEF
1

7/16

"-18
Reversible
__
MIL-I-8835; SAE AS26860 Type 2
0000000
00000
40%
±5%

5/8

"
1

3/8

"
1.05"
NPS

3/4

"-14
Reversible
__
MIL-I-8835; SAE AS26860 Type 2
0000000
00000
40%
±5%

5/8

"
1

3/8

"
1.05"
NPS

3/4

"-14
Reversible
Reverse Mounting
MIL-I-8835; SAE AS26860 Type 2
0000000
00000