Tension and Compression Force Sensors
Also known as load cells, these sensors measure and track the forces of your equipment by converting them into electrical signals. Send these signals to your computer or programmable logic controller (PLC) to monitor, document, and trigger actions in your machinery.
When choosing a sensor, consider whether you'll be measuring tension, compression, or both; what shape would fit your application best; and how you'll mount them. Select sensors with a capacity rating higher than the greatest load you expect them to receive. They're designed to briefly handle forces 1.5 times greater than their load capacity to protect them from unexpected overload.
To connect your sensor to a computer, PLC, or both, choose a sensor with a connection kit. Kits include everything you need to relay data.
Threaded hole and threaded through-hole sensors are often used to weigh items in packaging machine bins, conveyors, and chutes. Use two or more to accurately measure uneven loads. Round with threaded through-hole sensors can be bolted to surfaces and have a low profile for applications with limited clearance. They're commonly used to measure clamping forces.
Button sensors have a low profile to fit where there's limited clearance. They're often used for weight sensing in packaging machinery and for pressure sensing in medical device prototypes.
Threaded standoff sensors have a threaded hole to connect to eye bolts, rod ends, and threaded rods. They're commonly mounted upside-down between a tank and a leveling mount to weigh material in small tanks and silos. Dual-sided threaded standoff sensors have threaded holes on opposite sides, so you can attach them between two components, such as a hanging scale and its load.
Threaded stud sensors screw into equipment. Dual-sided threaded stud sensors can monitor push-pull forces, such as when testing the durability of a folding car seat over many repetitions.
S-shaped sensors are a common choice for monitoring and testing tension in wires, cords, ropes, and harnesses.
PC connection kits link sensors to a computer or tablet via USB cord. The included software plots and analyzes measurements, letting you track high, low, and average values over time. The software can set off connected alarms or notify you by email or text message when measurements fall outside a certain range. Data can also be exported to Microsoft Excel and other analytical software such as MATLAB and LabVIEW.
PLC connection kits send signals from sensors to your PLC to trigger actions in your system, such as diverting items on a conveyor that exceed a certain weight.
PLC/PC connection kits let you use the tracking and notification features of the PC software and the trigger functions of a PLC simultaneously.
All IP rated sensors seal out dust. IP66 rated sensors stand up to spraying water. IP67 rated sensors won't fail if briefly submersed.
For technical drawings and 3-D models, click on a part number.
Compression Force Sensors for Tight Spaces
Thinner than a credit card, these force sensors fit into narrow spaces to measure the applied load between two surfaces. While they're less accurate than larger alternatives such as load cells and handheld force gauges, these will fit almost anywhere. Place them within an industrial press to make sure it's operating in a safe range, or form them to the contour of a forklift seat to test the concept of adding a smart switch that detects when an operator is sitting and ready to operate the forklift. Sensors should be calibrated before first use. Also known as force sensing resistors.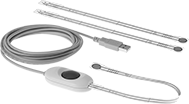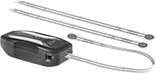 Kit with
Wi-Fi
Connection


Kits come with software to analyze data from sensors. Kits with USB connection include a hub that plugs into your computer's USB port. Kits with Wi-Fi connection use a hub that wirelessly connects to a computer or tablet within a sensing distance of 210 feet. The hub's transmitter is certified 802.11b radio – 802.11b/g/n to meet IEEE standards for compatibility with other devices.
Additional sensors and hubs (both sold separately) expand the connection kits.
To connect 3-pin and 2-pin sensors into hubs with a USB connections, adapters (sold separately) are required.
PC
Connection
Type
Sensor
Connection
Type

No.

of
Sensors
Included

Capacity,


English

Capacity,


Newtons

Lg.,


mm

Wd.,


mm
Sensing
Area


Dia.,

mm
Sensing


Distance,




ft.

Battery


Life,




hrs.

No.

of
Batteries
Included
Cord


Lg.,




ft.

For

Max.




No.

of
Sensors
For
Operating
System
Each
USB
Tab
3
1 lbs.
4.4 N
229
14
9.53
__
__
__
10
16
Windows Vista
Windows 7
Windows 8
Windows 8.1
Windows 10
0000000
000000000
Wi-Fi
3 Pin, 2 Pin
3
1 lbs.
4.4 N
197
14
9.53
0-210
5
3
__
16
Windows 2000
Windows XP
Windows Vista
Windows 7
Windows 8
Windows 8.1
Windows 10
0000000
00000000

Male Connector

Female Connector
Use male pin connectors to create a new male end on a trimmed sensor. Install a female end onto a sensor or another component with female pin connectors.