Compression Lug and Splice Ratchet Crimpers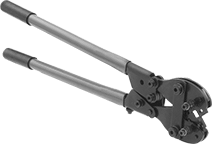 The ratchet applies the correct pressure to ensure a complete crimp every time. The dies are built into the rotating head. A reference chart on the tool shows you which one to use when attaching connectors to electrical wire.
This tool also works with 8- to 4/0-gauge battery terminals and heavy duty power lugs (you must use comparable battery terminal settings).
Copper
Aluminum
For Wire
Type
Compression


Force,

tons

Lg.

Material
Grip Material
Each
6-250 MCM
8-3/0
Stranded
5
25"
Steel
Vinyl Plastic
0000000
0000000
Compression Lug and Splice Crimpers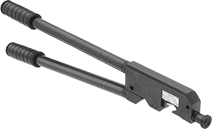 No dies to buy or change—this tool has settings you adjust for different compression connector sizes. A reference chart on the tool shows you the correct settings, which you adjust with the turn of a single screw. The head has a flat surface for standing the tool up. The handles telescope 13" for increased leverage.
Hydraulic Compression Lug and Splice Crimpers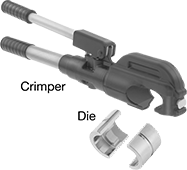 The most crimping force we offer—these tools have a high-pressure pumping system with a replaceable pressure cartridge that lasts for 10,000 to 12,000 compressions. The head swivels 180°.
Dies are required. The tools accept U-type dies for Alcoa, Burndy, Panduit, T&B, and Blackburn 12-ton tools. We list lug markings for two common manufacturers to help choose the correct die for your compression lug.
Replacement
Pressure
Cartridges

Jaw
Opening
For
Wire
Type
Compression


Force,


tons

Lg.

Material
Handle
Material
Includes
Each
Each
1.00"
Solid, Stranded
12
23"
Steel
Fiberglass
Plastic Carrying Case, Pressure Cartridge
000000
000000000
000000
0000000
1.65"
Solid, Stranded
12
25"
Steel
Fiberglass
Plastic Carrying Case, Pressure Cartridge
000000
00000000
000000
000000