Straight and Spiral Router Bits for
Wood,

Particle

Board,

and Plywood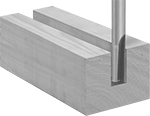 Square Cut Style

Spiral Flute
Create square slots, pockets, and edges in wood.
Bits with spiral flutes make plunge cuts more easily than straight-flute bits and leave a smoother finish. They're made from solid carbide for the longest tool life and fastest cutting speeds. Their extreme hardness means they are brittle, so a highly rigid setup, such as a CNC machine, is necessary to prevent the bit from breaking.
Spiral-flute bits with upward and downward chip removal are also known as compression bits. They move chips away from the top and bottom edges of the cut for a smooth finish on both.
Cutting


Dia.

Lg.

of
Cut
Shank


Dia.

Overall


Lg.

Number
of Flutes
For Tool Type
Each

Uncoated Carbide

Spiral Flutes with Upward and Downward Chip Removal

1/8

"

3/8

"

1/4

"
2

1/2

"
1
CNC Machine
0000000
000000

1/4

"

7/8

"

1/4

"
2

1/2

"
2
CNC Machine
0000000
00000

3/8

"

7/8

"

3/8

"
3"
2
CNC Machine
0000000
00000

3/8

"
1

1/8

"

3/8

"
3"
2
CNC Machine
0000000
000000

1/2

"

7/8

"

1/2

"
3"
2
CNC Machine
0000000
000000

1/2

"
1

1/8

"

1/2

"
3"
2
CNC Machine
0000000
000000