Wireless Mice

Optical

Optical with Trackball

Laser
Ergonomic mice are also known as vertical mice—a 60° tilt angle keeps your wrist in a handshake position to improve wrist and forearm alignment.
Mice with a laser sensor are more precise than mice with an optical sensor and work on reflective surfaces.
Wireless
Mouse Type
Connection Type

Ht.

Wd.

Dp.

Color
Batteries
Included
Includes
Each

Optical

Standard
4-pin USB Type A (Male)
1

5/8

"
2

5/8

"
4

1/4

"
Black
Yes
USB Receiver
00000000
000000

Optical with Trackball

Ergonomic
4-pin USB Type A (Male), Bluetooth
3

1/4

"
6

1/4

"
4"
Black
Yes
USB Receiver
00000000
00000

Laser

Standard
Bluetooth
2

3/8

"
5

3/8

"
7

7/8

"
Black
Yes
__
00000000
00000
Mice

Mouse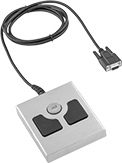 Washdown Mouse
Washdown mouse has a stainless steel case that's rated NEMA 6P and NEMA 13 for protection against washdowns and corrosion. Its 6-pin mini DIN connection can only be used with PCs. It cannot be sold to Illinois due to disposal requirements..
Wireless Keyboards
No need to wrangle cords—you can move these keyboards freely around your work space.
Ergonomic keyboards position your hands for improved comfort.
Use hand-held keyboards to control computers from up to 65 feet away. They have an integrated trackpad, so you don't need a separate mouse.
Liquid-resistant keyboards stand up to coffee, water, soda, and other spills.

Standard Keyboard and Mouse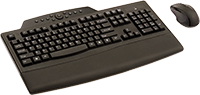 Standard Keyboard and Mouse with Wrist Rest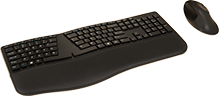 Ergonomic Keyboard and Mouse
(Black)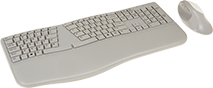 Ergonomic Keyboard and Mouse
(Gray)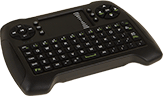 Color
Connection
Type

Wd.

Dp.

Features
Includes
Each
Black
USB
6"
4

1/4

"
Low-Profile Keys, Integrated Trackpad
USB Receiver
00000000
000000