Sanitary Magnetic Strainers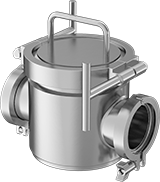 Strainer Shown Assembled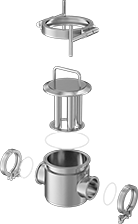 Strainer

Gasket
For Use

With:

Beverage,

Dairy,

Food,

Salt

Solutions,

Sodium

Nitrate,

Water

Max.

Pressure:

150

psi @

225° F

Temp.

Range:

-20° to 225° F
Draw metal shavings and other contaminants out of your sanitary liquid line with these strainers. As liquid swirls through the strainer cavity, magnets sealed inside capture any metal bits. Remaining impurities are separated out with gravity and trapped in a collection sump. Empty the strainers by removing the lid and scooping up the collected particles at the bottom of the enclosure. These strainers have quick-clamp connections, so they're good for frequent deep cleans and line changes. Also known as tri-clamp fittings, they connect with a gasket, a clamp, and another quick-clamp fitting for quick removal and assembly.
These strainers are 316 stainless steel, which won't corrode from frequent washdowns with harsh cleaners. The continuous weld seams and polished surfaces are free of pits and crevices where bacteria could grow, making them easy to sanitize. Rated for high temperatures, you can keep these strainers on your line during a heated clean-in-place (CIP) process. All strainers and their included gasket are FDA compliant, meaning they are safe for food contact.
Filters that are USDA certified meet the highest standards of sanitary design.
For technical drawings and 3-D models, click on a part number.
Pipe
Size

Max.

Magnetic


Pull,

lbs.

Lg.

Ht.

Magnet
Material
Gasket Material
Specifications Met
Each

316 Stainless Steel

2

14.25
9

3/4

"
9

3/8

"
Neodymium
Buna-N Rubber
FDA Compliant 21 CFR 177.2600

0000000
000000000
2

14.25
9

3/4

"
9

3/8

"
Neodymium
Buna-N Rubber
FDA Compliant 21 CFR 177.2600

0000000
00000000
3

14.25
9

13/16

"
9

3/8

"
Neodymium
Buna-N Rubber
FDA Compliant 21 CFR 177.2600

0000000
00000000
3

14.25
9

13/16

"
9

3/8

"
Neodymium
Buna-N Rubber
FDA Compliant 21 CFR 177.2600

0000000
00000000