About Grease Fitting Threads
About NEMA
Plugs,

Sockets,

and Receptacles
Hazardous Location
Straight-Blade

Plugs and Receptacles
Use connectors where ignitable gas and dust may be present. They are UL listed for Class I, Division 1 and 2, Groups C and D; Class II, Division 1 and 2, Groups F and G; and Class III hazardous environments.
Receptacles are compatible with both the NEMA 5-15 and 5-20 plugs.
Note: The current rating of your plug should not exceed that of your receptacle.
For technical drawings and 3-D models, click on a part number.
Three-Slot 60° Elbow Female Receptacles with Attached Cover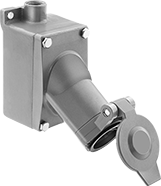 NEMA
Style
Voltage
Current
Wire
Connection
Type
Receptacle
Terminal
Location
Mounting
Location
Environment
Environmental
Rating
Color
Conduit
Thread
Type
Choose a
Conduit
Trade Size
Each

Grounded

5-20
125V AC
20A
Screw Terminals
Back
Surface
Hazardous Location, Outdoor
NEC Class I Divisions 1, 2 Groups C, D
NEC Class II Divisions 1, 2 Groups F, G
NEC Class III Divisions 1, 2
NEMA 3
NEMA 7
NEMA 9
NEC Zone 1 Groups IIB, IIA

Gray
NPT

0000000
0000000
Gas Chimney

Vents and Fittings
For use with gas-fired equipment, such as boilers and furnaces, these vent pipes and fittings withstand temperatures up to 400° F. Also known as type B gas vents.
To join pipes and connectors, insert a male end into a female end and secure with the included locking band.
Adjustable-Angle Connectors, 60° Elbow to Straight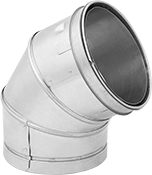 Adjustable-angle elbow connectors can be used at an angle or straight.
Flow-Stop

Grease Fittings

Prevent damage caused by over-lubrication—these fittings automatically stop grease flow when pressure is within the shut-off range. They resume flow when the pressure drops below the range. An integral check valve prevents grease from leaking when pressure causes backward flow. The valve stays closed when not in use to keep out dirt and other contaminants. These fittings are also known as hydraulic grease fittings. They have PTF (Dryseal) threads, which are compatible with NPT threads.
For technical drawings and 3-D models, click on a part number.