Slant-Top

Oil-Resistant

Enclosures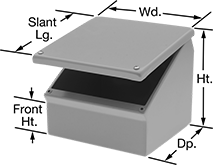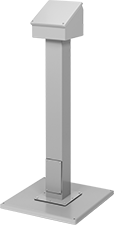 Enclosure Shown with Pedestal and Pedestal Base
Mount these enclosures on either of two sides, creating a 30° or 60° slanted surface for displays, touch screens, and other interactive devices. They are rated NEMA 13 and IP65 for indoor protection from dirt, dust, spraying and splashing oil/coolant, and low-pressure jets of water.
Add a pedestal and a pedestal base to enclosures to make them freestanding.
For technical drawings and 3-D models, click on a part number.
Ht.

Front


Ht.

Wd.

Dp.

Slant


Lg.

Closure
Screw
Type
Environment
Environmental
Rating
Specifications
Met
Color
Each

Powder-Coated

Steel with Hinged Cover and Screw Closure

7"
2

1/2

"
8

1/4

"
7

1/2

"
8

1/4

"
Captive
Oily, Washdown
IP65; NEMA 13
CSA Certified, UL Listed, C-UL Listed, UL 508A
Gray
00000000
0000000
7"
2

1/2

"
12

1/4

"
7

1/2

"
8

1/4

"
Captive
Oily, Washdown
IP65; NEMA 13
CSA Certified, UL Listed, C-UL Listed, UL 508A
Gray
00000000
000000
7"
2

1/2

"
16

1/4

"
7

1/2

"
8

1/4

"
Captive
Oily, Washdown
IP65; NEMA 13
CSA Certified, UL Listed, C-UL Listed, UL 508A
Gray
00000000
000000
9"
2

1/2

"
12

1/4

"
11"
12

1/4

"
Captive
Oily, Washdown
IP65; NEMA 13
CSA Certified, UL Listed, C-UL Listed, UL 508A
Gray
00000000
000000
9"
2

1/2

"
16

1/4

"
11"
12

1/4

"
Captive
Oily, Washdown
IP65; NEMA 13
CSA Certified, UL Listed, C-UL Listed, UL 508A
Gray
00000000
000000
9"
2

1/2

"
24

1/4

"
11"
12

1/4

"
Captive
Oily, Washdown
IP65; NEMA 13
CSA Certified, UL Listed, C-UL Listed, UL 508A
Gray
00000000
000000
11"
2

1/2

"
20

1/4

"
14

1/2

"
16

1/4

"
Captive
Oily, Washdown
IP65; NEMA 13
CSA Certified, UL Listed, C-UL Listed, UL 508A
Gray
00000000
000000