Rectangular Plastic Batch Cans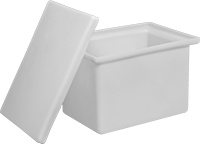 Capacity,




gal.

Wd.

Dp.

Ht.

Wd.

Dp.

Thick.

Color
Clarity
Lid
Type

Max.




Temp.,




°F

Space
Saving
Features
Features
Each

Polyethylene Plastic

11
20

3/4

"
14

3/4

"
13

1/2

"
18"
12"

3/16

"
White
Semi-Clear
Loose Fitting
140°
Stackable
Seamless
0000000
0000000
High-Temperature

Rectangular Plastic Batch Cans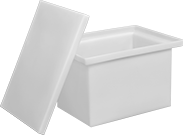 Capacity,




gal.

Wd.

Dp.

Ht.

Wd.

Dp.

Thick.

Color
Clarity
Lid
Type

Max.




Temp.,




°F

Space
Saving
Features
Features
Each

Polypropylene Plastic

11
21"
14

3/4

"
13

3/4

"
18"
12"

1/4

"
White
Semi-Clear
Loose Fitting
220°
Stackable
Seamless
0000000
0000000
Rectangular Stainless Steel Batch Cans
Batch cans with drain have a drain centered on the bottom of the can.
Galvanized Steel Tubs

A
Tubs are made of galvanized steel for corrosion resistance.
For technical drawings and 3-D models, click on a part number.

A
Capacity,




gal.

Dia.

Ht.

Bottom
ID
Gauge
Space Saving
Features
Each

Galvanized Steel

A
11
20

1/4

"
11"
20

1/4

"
28
Nestable
000000
000000
Plastic
Step-Open

Waste Containers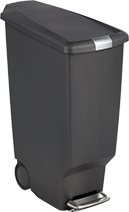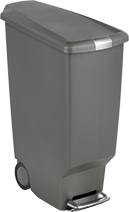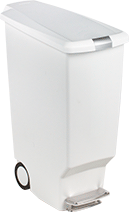 Open these plastic waste containers with your foot to discard trash without touching the lid. They help you comply with OSHA sanitation standards, which require storing waste that does not leak and keeps out rodents.
Parts Washing Tubs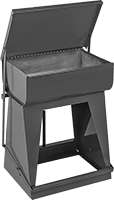 Immerse parts for cleaning and soaking. Use with solvent-based solutions that have a flash point above 105° F. Note: Do not use with flammable liquids.