Plastic Pans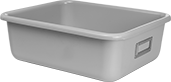 D

F
Style F are also known as photographic trays. A pouring lip makes it easy to pour liquids without making a mess.
Stain-

and

Stick-Resistant

Plastic Pans

B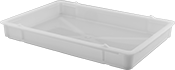 G
These durable pans are impact, wear, chemical, stain, and stick resistant. All are FDA compliant for direct contact with food. Pans that are autoclavable when loaded are commonly used to steam-cook food and to sanitize equipment.
Pans that meet NSF/ANSI 2 comply with a sanitary design standard for food equipment.
Style B—PTFE/Polypropylene Plastic Blend

B
Capacity,




gal.

Lg.

Wd.

Ht.

Lg.

Wd.

Autoclavable


(Type)

Max.




Temp.,




°F

Specifications
Met
Color
Each

Nestable

4

3/4

38"
17

3/4

"
2

1/4

"
37"
16

3/4

"
Yes (Loaded)
250°
FDA Compliant 21 CFR 177.1520
FDA Compliant 21 CFR 177.1550
FDA Compliant 21 CFR 177.2400
FDA Compliant 21 CFR 177.2600

White
000000000
000000
Style G—PTFE/Polypropylene Plastic Blend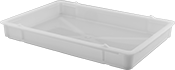 G
Capacity,




gal.

Lg.

Wd.

Ht.

Lg.

Wd.

Autoclavable


(Type)

Max.




Temp.,




°F

Specifications
Met
Features
Choose
a
Color
Each
Lid
Type
Each

Stackable

4

3/4

26"
18"
3"
24"
16"
Yes (Unloaded)
250°
FDA Compliant 21 CFR 177.1520
FDA Compliant 21 CFR 177.1550
FDA Compliant 21 CFR 177.2400
FDA Compliant 21 CFR 177.2600
NSF/ANSI 2

Handholds
00000000
000000
Loose Fitting
00000000
000000
For Pan


Capacity,

gal.

O'all




Cap.,

lbs.

Color

Lg.

Wd.

Ht.

Dia.

Material
Type
Space
Saving
Features
Each

PTFE/Polypropylene

Plastic

Blend—

Smooth Platform

4

3/4

400
Blue
26"
18"
7

1/2

"
3"
Polypropylene Plastic
Tread on Core
Nestable
000000000
0000000
Plastic Pails with Two Compartments
Capacity,




gal.

Wd.

Dp.

Ht.

Wd.

Dp.

Graduation
Marks
Color
Autoclavable

Max.




Temp.,

°F

Each

Polyethylene Plastic

4

3/4

14

1/2

"
18"
10"
4

3/8

"
14"

1/2

qt.
Gray
No
150°
00000000
000000