Protective Cases for Mobile Devices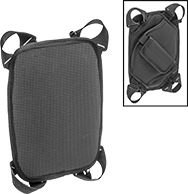 Soft iPad Case
Safeguard your mobile devices from damage.
Soft cases attach with corner loops. They have a padded hand strap for holding your tablet while you work.
For Use With
Material
Color
Features
Includes
Each

Soft

iPad Tablets
Rubber
Black
Padded Hand Strap
Accessory Pouch, Shoulder Strap
0000000
000000
Protectors for Robot Teach Pendants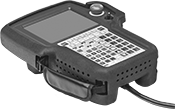 Drop, scrape, or spill on your robot teach pendants (also known as HMIs)—these protectors will guard them, preventing downtime due to damage. With a size and shape tailored to your teach pendant, each protector fits snugly without blocking buttons or other features.
All cases cover the back and sides of teach pendants. Made of Santoprene rubber, they resist water and most water-based cleaners, as well as many industrial coolants, lubricants, and cutting fluids. Their textured surface makes them easy to grip, even when they're wet.
Cases with a mounting handle have a handle that doubles as a hanger, so you can easily mount them on equipment or walls.
Cases with a mounting hook include everything you need to replace the original hook on your electronics cabinet, which may not fit with the case around the pendant.
Cases with a cradle adapter allow teach pendants to fit snugly into their original holder, despite the added bulk of the case.
Carriers for Glass Bottles
Safely tote beakers, flasks, jugs, and other glass bottles between tasks without spilling on the floor or dropping the container. These carriers have a centering ring on the base that keeps the bottle positioned and prevents liquids from sloshing. A handle makes them easier to grip than a glass bottle alone. Made of rubber, they stand up to acids, alkalis, and solvents, resist bacteria and fungi growth, and won't sweat when holding water for an ice bath. They're also autoclavable, so you can sterilize them with steam. Attach a label to the recessed area on the side.
For

Max.


Bottle


Dia.

Max.




No.

of
Bottles

Dia.

Ht.

Overall


Ht.

Material
Autoclavable

Temp.




Range,




°F

Features
Choose
a
Color
Each
3

1/4

"
1
4

1/2

"
6

1/2

"
10"
TPE Rubber
Yes
-50° to 230°
Centering Ring
000000
000000
6

1/2

"
1
7

1/2

"
10

1/2

"
16"
TPE Rubber
Yes
-50° to 230°
Centering Ring
000000
00000
Flexible Trays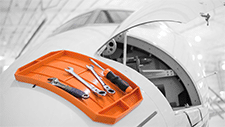 Made of silicone, these trays bend to hug curves and cling to highly polished surfaces—keeping your tools right where you need them. Originally created to keep tools from sliding off F16 fighter jets, these trays use friction to grip surfaces, so they won't fall or slide, even on inclines up to 70°. They're soft and won't dent or scratch your surface like traditional trays can. Drape them over hot pipes or an engine block and they won't melt—they withstand temperatures up to 500° F.
In addition to holding parts and tools, use these trays at your workstation to clean dirty, oily parts such as roller chain. They won't degrade when exposed to oil and chemicals, yet are easy to clean. Wash them with soap and water.
Their vibrant orange color makes them stand out, so you can spot them across the shop; and the contrast with your tools makes it easy to find the right one.
Number
of Trays

No.

of Compartments


(Lg. × Wd. × Ht.)

Material

Max.




Temp.,

°F

Color
Each
3
3 (11

3/4

" × 8

1/4

" × 1")
5 (22" × 12" × 1")
6 (11

3/4

" × 5

3/4

" × 1")
Silicone Rubber
500°
Orange
0000000
0000000
Rubber and Plastic Pails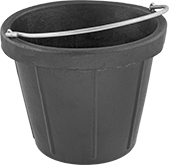 A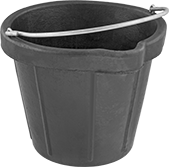 B
Styles A and B are made of rubber for better crush resistance than plastic pails.
Nonsparking Rubber Pails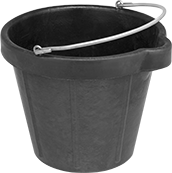 This pail has a brass handle that inhibits sparking and is nonmagnetic. It is often used with oil and solvents.
Capacity,




gal.

Dia.

Ht.

Bottom
ID
Graduation
Marks
Color
Autoclavable

Max.




Temp.,

°F

Each

Rubber

3
12

1/2

"
10

1/2

"
7

1/8

"

1/2

gal.
Black
No
160°
000000
000000

Shown with Optional Connector
Create a barrier to stop spills from spreading. Dike bends to form almost any shape you need. You can cut it, or use the optional connectors (sold separately) to create longer lengths. It resists oil, water, and most chemicals, and is nonabsorbent, washable, and reusable.
Tabletop
Spill-Control

Dikes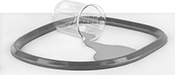 Form a barrier to stop small spills from spreading on tabletops and workstations with these flexible rubber dikes. Made of polyurethane, they resist oil, water, and most other chemicals. These dikes are easy to clean and reusable.
Lg.,




ft.

Wd.

Ht.

Material
Color
Includes
Each
4
1"

3/4

"
Polyurethane Rubber
Orange
Carrying Case
0000000
000000