Door Strips for Small Openings

Sized to fit short openings, the holes are already punched in these strips for convenient installation. Use them to replace worn strips or create custom strip doors.
Strip Doors for Small Openings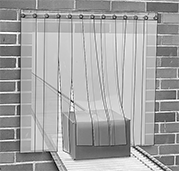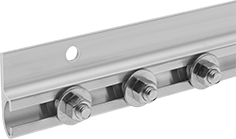 Bolt On
Sized to fit short openings, these strip doors are often used with conveyors to prevent the loss of heated or cooled air through unprotected openings. They consist of a mounting plate and vinyl strips. The strips overlap each other to prevent gaps. Each door has a bolt-on strip mounting plate. Place strips on the threaded studs and use the included nuts to hold them securely in place.
Wd.,




ft.

Ht.,




ft.

No.


of
Strips
Overlap

Mount.


Hole


Ctr.-to-Ctr.

Color
For
Use
Outdoors

Temp.




Range,




°F

Material

Mount.


Fasteners
Included

Mount.


Hole


Dia.

Each
Each

Bolt On

4"

Wd.

×

0.06"

Thick.

Strips

3
3
12
1"
3"
Clear
Yes
-10° to 150°
Aluminum
No

3/8

"
0000000
0000000
0000000
00000
3
4
12
1"
3"
Clear
Yes
-10° to 150°
Aluminum
No

3/8

"
0000000
000000
0000000
0000
3
5
12
1"
3"
Clear
Yes
-10° to 150°
Aluminum
No

3/8

"
0000000
000000
0000000
0000
4
3
16
1"
3"
Clear
Yes
-10° to 150°
Aluminum
No

3/8

"
0000000
000000
0000000
0000
4
4
16
1"
3"
Clear
Yes
-10° to 150°
Aluminum
No

3/8

"
0000000
000000
0000000
0000
4
5
16
1"
3"
Clear
Yes
-10° to 150°
Aluminum
No

3/8

"
0000000
000000
0000000
0000
5
3
20
1"
3"
Clear
Yes
-10° to 150°
Aluminum
No

3/8

"
0000000
000000
0000000
0000
5
4
20
1"
3"
Clear
Yes
-10° to 150°
Aluminum
No

3/8

"
0000000
000000
0000000
0000
5
5
20
1"
3"
Clear
Yes
-10° to 150°
Aluminum
No

3/8

"
0000000
000000
0000000
0000