Screw Conveyors
Add on to an existing screw conveyor or keep it running like new.
Screws are designed for right-hand operation. Screws with a thicker edge offer longer service life for abrasive materials.
Discharge spouts can be welded to a cutout in the trough.
Coupling shafts connect two screws together. End shafts support the end conveyor section. Coupling bolts connect shafts to the screw.
End-shaft seals prevent material contamination and discharge.
End-shaft bearings support the end of the shaft and help the screw rotate.
Bearing hangers mount inside the trough.
Hardwood bearings are oil impregnated and are often used in agricultural applications. UHMW bearings work well with chemicals and wet environments. Iron bearings are oil impregnated and offer longer life for abrasive materials. Bronze bearings are oil impregnated.
For technical drawings and 3-D models, click on a part number.
Material Handling Chutes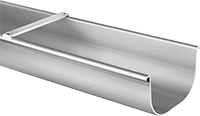 Straight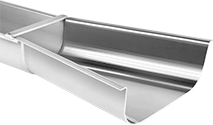 Flared
Let gravity move your material from one area to another by connecting these chutes to conveyors and other machinery. Originally designed for cement trucks, the extruded aluminum construction makes chutes both strong and lightweight. Chutes can be cut to shorter lengths.
Flared chutes have a wide opening to prevent material from jamming.