Cooling Bandanas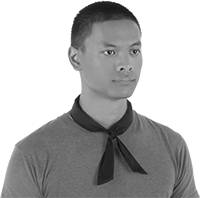 Cotton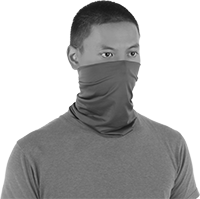 Soak these bandanas before wearing them—they'll cool you off as the water evaporates.
Cotton bandanas contain absorbent cooling crystals to hold large amounts of water. Soak in cold water for 20 minutes for all-day cooling.
Run polyester/spandex bandanas under cold water and wring them out for instant cooling that lasts up to three hours. With UPF 50 sun protection, they protect your skin from UV rays when working outside. An odor-resistant finish prevents bacteria growth, eliminating odors caused by sweat. Reflective accents call attention to the wearer in low-light conditions, helping keep them safe. They have a low profile so they're easily worn under hard hats. The polyester/spandex fabric is durable for long-term use while remaining soft and comfortable. It's breathable to keep you cool, and easy to breathe through when used as a face covering. These bandanas are moisture wicking when dry, helping keep sweat out of your eyes when worn as a headband. High visibility bandanas come in neon colors, helping prevent accidents by making wearers easy to spot.
Lg.

Dia.

Ultraviolet
Protection
Factor

(UPF)

Features
Size
Choose
a
Color

1-5

6-Up

Cotton Fabric

34"
__
__
Cooling Crystals
One Size
0000000
00000
00000

Polyester/Spandex

Fabric Blend

19

5/8

"
9

7/8

"
50
Odor-Resistant Finish, Reflective Accents
One Size
0000000
00000
00

High-Visibility

Polyester/Spandex

Fabric Blend

19

5/8

"
9

7/8

"
50
Odor-Resistant Finish, Reflective Accents
One Size
0000000
00000
00
Cooling Sleeves

Keep arms cool while protecting against harmful UV rays. Soak these polyester/spandex blend sleeves in cold water for a few minutes to cool you for up to 2 1/2 hours. When dry, these sleeves wick sweat and moisture away.
When measuring upper arm circumference, measure around your bicep.
Cooling Vests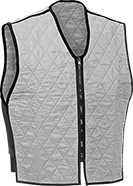 A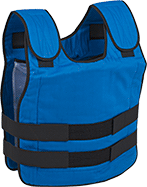 B
Chill these vests to keep you cool and comfortable in hot conditions.
Style A are lightweight nylon. Soak in cold water for 5 minutes, and it keeps you cool through evaporation for up to 4 hours. The exterior is water resistant to keep you dry. They have a zipper down the front.
Style B have cooling packs that maintain a consistent cool temperature of 55° F for up to 3 1/2 hours. Soak the packs in ice water for 10-15 minutes, or store in the freezer for at least 20 minutes before wearing. These vests are durable cotton for better abrasion resistance than Style A. They have hook and loop fasteners at the shoulders and around the waist to modify the fit and tear away easily if caught on machinery.
Size
Chest Size
M
36"/38"
L
38"/40"/42"
XL
42"/44"/46"
2XL
46"/48"/50"
3XL
50"/52"/54"
Replacement
Cooling
Pack Sets

Style
Material
Closure
Type
Weight
Choose
a
Color
Choose
a
Size
Each
Each
Each
A
Nylon Fabric
Zipper
__
0000000
000000
000000
00
000000
00
B
Cotton Fabric
Hook and Loop
6

1/2

lbs.
Blue
One Size
0000000
000000
0000000
0000000
0000000
0000000
Cooling Shirts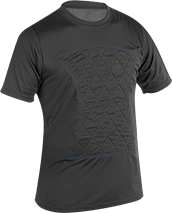 Short Sleeve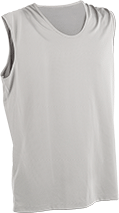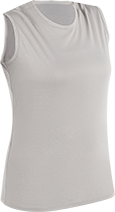 Stay cool in hot conditions with these lightweight, breathable shirts. Soak them in water for a few minutes and wring them out before putting them on. Wear these shirts on their own or underneath other clothing.
Short sleeve shirts are lined with waterproof nylon to keep you dry, even when the shirt is soaked. Water evaporates from the nylon/spandex fabric blend, cooling you off for five to ten hours.
Made from polyester fabric, sleeveless shirts hold moisture against your skin. When they're wet, they lower your body temperature, keeping you cool for up to two hours.
Size
Chest
Size

Short Sleeve

XS
31"/33"
S
34"/36"
M
37"/39"
L
40"/42"
XL
43"/45"
2XL
46"/48"
3XL
49"/51"
XS
__
S
__
M
__
L
__
XL
__
2XL
__
XS
__
S
__
M
__
L
__
XL
__
2XL
__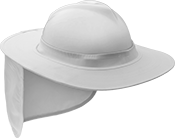 Shown with Hard Hat
(Sold Separately)
Protect your neck and face from the sun's rays. These sun shields are made of lightweight polyester, so they won't weigh you down. An inner elastic rim fits over most hard hats and secures with hook and loop straps to the inside suspension.
Material
Closure
Type
Color
Size
Each
Polyester Fabric
Elastic, Hook and Loop
Fluorescent Yellow
One Size
0000000
000000
Cooling Towels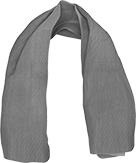 Drape or wrap towels around your body to cool you down. Run under cold water for 2-5 minutes, and towels stay cool for up to 4 hours. Made of lightweight PVA, these towels feel like soft felt.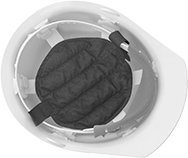 Shown with Hard Hat
(Sold Separately)
These pads have water-absorbent cooling crystals to relieve heat through evaporation. Soak in cold water for 20 minutes to cool you all day. Fasten to the hard-hat suspension with the hook and loop straps.
Material
Closure
Type
Features
Color
Size

1-5

6-Up

Cotton Fabric
Hook and Loop
Cooling Crystals
Dark Blue
One Size
0000000
00000
00000