About
Copper,

Brass,

and Bronze
High-Strength

182 Copper Hex Bars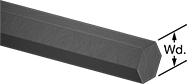 Yield

Strength:

40,

000 psi

Hardness:

Rockwell B70

(Medium)

Temper:

H04

(Full

Hard)

Heat

Treatable:

Yes
182 copper is stronger, harder, and more wear resistant than 110 copper. Also known as RWMA Class 2 chromium copper, it's commonly used in resistance welding, for circuit-breaker parts, and for molds to make plastic parts.
For technical drawings and 3-D models, click on a part number.

Certificates with a traceable lot number are available for these products. Download certificates from ORDER HISTORY after your order ships.