How to

Identify and Measure Fittings
Pipe size is an industry designation, not the actual size. View information about how to measure threaded and unthreaded pipe and pipe fittings.
Underground
Snap-Lock

Polyethylene Pipe for

Drain,

Waste,

and Vent
For Use

With:

Water
Specifications

Met:

ASTM F667
Pipe has a snap-together design that allows you to quickly connect to fittings with no cement required. It is typically used in gravity-flow drainage applications. Made of high-density polyethylene (HDPE), it stands up to freeze/thaw cycles and resists corrosion and stress cracking. Pipe is corrugated inside and out for flexibility. It meets ASTM F667 specifications and testing requirements for material quality as well as soil conservation service (SCS) standards for use in underground drain lines.
Nonperforated pipe allows you to flow drainage to one area. Perforated pipe has slits along the entire length that allow drainage to be dispersed.
Female/male ends connect to female or male snap-lock fittings. Male ends allow you to join two lengths of pipe without the need for a fitting.
Warning: Never use plastic pipe fittings and pipe with compressed air or gas. Do not expose pipe to direct sunlight.
For technical drawings and 3-D models, click on a part number.
Filter Sleeves for Underground Perforated Drain Pipe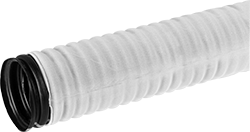 Protect perforated underground drain pipe from clogging. These woven polyester sleeves prevent dirt from entering while still allowing waste to drain out. Cut sleeve to length using scissors and slide over drain pipe.
Size

OD
Wall


Thick.

Material
For Pipe Material
Color
Specifications Met
Each
3

3

5/8

"
0.024"
Polyester Fabric
Polyethylene Plastic
White
ASTM D6707 Type A
0000000
00000
4

4

5/8

"
0.024"
Polyester Fabric
Polyethylene Plastic
White
ASTM D6707 Type A
0000000
0000
3

3

5/8

"
0.024"
Polyester Fabric
Polyethylene Plastic
White
ASTM D6707 Type A
0000000
00000
4

4

5/8

"
0.024"
Polyester Fabric
Polyethylene Plastic
White
ASTM D6707 Type A
0000000
00000