Corrugated Plastic Box and Pallet Liners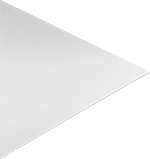 Plastic liners resist punctures, moisture, and many acids. Use them between pallets or layers of stacked material, or to reinforce the bottom of shipping boxes.
Blank Signs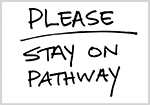 White
Fill in the blank with your own custom warnings, labels, and messages. You can write on these signs with markers, add color with paint, or stick on adhesive-back characters. Many even work with printers.
Plain Back
More than twice as thick as our other blank signs, these are a good option for freestanding signs and displays.
Corrugated polypropylene signs are durable enough for temporary use outdoors. They're commonly paired with sign stakes. Polystyrene foam is also called foam core.
Sign Stakes
Drive these stakes into the ground to display your foam or corrugated signs outside.
Roof Panels

These panels are impact, heat, chemical, and weather resistant. To cut panels to size, use a circular saw with a fine-tooth blade.
Connectors join two panels side by side. Use one connector for every foot of panel length.
Finishing strips keep the top and bottom ends clear of dirt and dust.
For technical drawings and 3-D models, click on a part number.
Lg.

Wd.

Thick.

Corrugation


Ht.

Material
Color
Temperature


Range,




° F

Flammability
Rating
Specifications
Met
Each
Each
48"
38"

1/16

"
1

1/4

"
Polycarbonate Plastic
White
-50° to 260°
ASTM E84 6/325 for Flame and Smoke
Class A Fire Rated
000000000
000000
0000000
00000
72"
38"

1/16

"
1

1/4

"
Polycarbonate Plastic
White
-50° to 260°
ASTM E84 6/325 for Flame and Smoke
Class A Fire Rated
000000000
00000
0000000
000
96"
38"

1/16

"
1

1/4

"
Polycarbonate Plastic
White
-50° to 260°
ASTM E84 6/325 for Flame and Smoke
Class A Fire Rated
000000000
000000
0000000
000