Water-Repellent

Cotton Fabric Sheets

Saturated with wax, these sheets also have a polyester coating on one side to resist corrosion and moisture. Protect piping and wrap irregularly shaped objects with this very flexible fabric. It adheres to itself but can be separated easily.
Cotton Fabric Sheets and Strips

Also known as cotton duck and canvas, this fabric can be used as dust covers, drop cloths, and straps.
Off-white fabric is unbleached. White fabric has been bleached.
Flame-Resistant

Cotton Fabric Sheets

This cotton fabric is treated to resist flames, allowing it to meet Canvas Products Association International CPAI-84, Section 6. Use as tarps.
Cheesecloth
Loosely woven from 100% purified cotton, this silicone-free cloth is low linting and won't scratch. The more plies (or layers) the cheesecloth has, the better it is for straining, filtering, and polishing. Individual sheets are rolled together.
Off-white cheesecloth is unbleached. White cheesecloth has been bleached.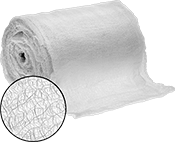 Cheesecloth
Ply

Lg.

Wd.

Roll Type
Sheets per
Container
Color
Each
1
300ft.
51"
Continuous
1
White
00000000
0000000
3
14"
9"
Individual Sheets
100
White
00000000
00000
3
20"
9

1/2

"
Individual Sheets
100
Off-White
0000000
00000
3
27"
9"
Individual Sheets
100
Off-White
00000000
00000
4
24"
9"
Individual Sheets
128
White
0000000
00000
4
30"
9"
Individual Sheets
120
White
00000000
00000
4
15ft.
36"
Continuous
1
White
0000000
0000
Optional Dispensers for Individual Sheets
Wd.

Dp.

Ht.

Material
Color
Mounting
Location
Number of
Mounting Holes
Mounting
Hole

Dia.

Mounting
Fasteners
Included
Each
11

1/2

"
6

1/2

"
5"
Painted Steel
White
Bench Top, Wall
2

1/8

"
No
0000000
000000