Rotary Motion
Position-Measuring

Transmitters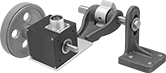 Shown with Wheel and Mounting Bracket
(Both Sold Separately)

Provide motion feedback to counters, controllers, and motor drives for automated motion control and measurement applications. Also known as encoders, transmitters convert rotary motion to an electrical signal so you can operate your system based on distance, direction, and speed of travel. Transmitters have Pull-Up Resistor output.
Use a flexible shaft coupling (not included) to connect the transmitter shaft to a drive shaft.
Mount a wheel (not included) to use transmitters to measure lengths.
Use cables (not included) to connect transmitters to counters and controllers.
Transmitters with a quadrature output channel must be used with a controller that has quadrature detection to get a 4X resolution increase.
For
Counter
Function
Output
Channels
Resolution
Increase
For

Max.


Shaft


Speed,

rpm
Input
Voltage
Output


Current,


mA
Shaft
Coupling
Required
Body
Material
Shaft
Material

Lg.

Wd.

Ctr.-to-Ctr.

Thread
Size

Choose
a
Resolution
Each

Single Output Channel

Up
A
2X
6,000
5V DC-28V DC
250
Yes
Aluminum
Stainless Steel
2

1/4

"
2

1/4

"
1.41"
6-32

00000000
0000000

Quadrature Output Channel

Up and Down
A, B
2X, 4X
6,000
5V DC-28V DC
250
Yes
Aluminum
Stainless Steel
2

1/4

"
2

1/4

"
1.41"
6-32

00000000
000000
| | | | |
| --- | --- | --- | --- |
| 12" Circumference Rubber Wheel (3.82" Dia. × 3/4" Wd.) | 00000000 | Each | 0000000 |
| Aluminum Mounting Bracket (2.6" Lg. × 2 1/2" Wd. × 3.9" Ht.; No. 12 Screws Required) | 00000000 | Each | 000000 |
| 12" Circumference Polyurethane Wheel (3.82" Dia. × 0.7" Wd.) | 00000000 | Each | 000000 |
| 20ft. Cable | 00000000 | Each | 000000 |
| 10ft. Cable | 00000000 | Each | 000000 |