Counters with Proximity Sensor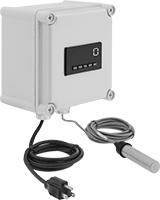 Count metallic objects as they touch or pass within 0.059" of this counter's built-in sensor. It has an output relay to send a signal to another device when a set point is reached. The signal can start/stop a process or trigger an alarm. A scaling function lets you adjust the unit of measure to suit your application. Counter and enclosure are protected from dust and washdowns and can be used outdoors (rated NEMA 4X). Drill through the back of the enclosure to mount to a wall or work surface.
Resettable
Counting
Direction

No.


of
Digits

No.

of
Set
Points

Max.


Counts
per Minute

Max.


Sensing
Distance

Lg.

Dia.

Cord


Lg.,




ft.

Ht.

Wd.

Dp.

Operating
Voltage
Output
Relay
Current
Environmental
Rating
Each

Screw On

Yes
Up or Down
6
2
300,000
0.059"
3

1/2

"

3/4

"
10
7.5"
7.5"
5.1"
85-250V AC
5 A @ 120 V AC
5 A @ 240 V AC
5 A @ 28 V DC
NEMA 4X

00000000
0000000
Printing Calculators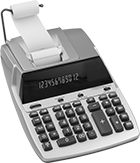 Record your calculations and print receipts.
Cost/sell/margin function allows you to enter any two variables to get the third.
Sanitary Conductivity Sensors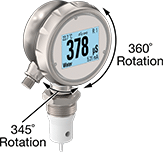 Sensor



Optional
Quick-Clamp
Adapter
Test for chemicals, cleaners, and other substances in your sanitary line by measuring how well the liquid conducts electricity. These sensors are highly accurate over a wide conductivity range, so you can use them with almost any liquid or process. They're certified by 3-A and by the European Hygienic Engineering and Design Group (EHEDG) to meet sanitary design standards.
Rated IP69K, these sensors hold up to high-temperature, high-pressure washdowns. They're also rated IP67, so they can be submerged in water for up to 30 minutes. These sensors are often used to save water after clean-in-place (CIP) cycles by determining when the rinse water is free of chemicals and cleaners. Made from 304 stainless steel, the body won't corrode from frequent washdowns with harsh cleaners. The sensor probe is PEEK, which won't degrade from chemicals and high temperatures—it's also FDA compliant for safe contact with food. Any parts that contact liquids are polished to extreme smoothness, so bacteria has nowhere to hide.
Program these sensors with the touchscreen, and select one of three background colors as a visual alert for errors, completed cycles, and other events in your process. The head swivels 345° and the face rotates all the way around, so you can mount the sensor at any angle and still see the display. They have automatic temperature compensation (ATC) that standardizes readings at 77° F (or the temperature you choose) to give accurate results, even in fluctuating temperatures. Since they also measure temperature, you don't need a separate temperature sensor on your line.
You can also connect these sensors to remote displays and programmable logic controllers (PLCs) with the M12 plugs. Programming these sensors remotely makes frequent application changes easier, and lets you measure liquids in hard-to-reach areas. They're compatible with IO-Link, HART, and 4-20 mA analog outputs, so you can use them with existing systems. They're often used to trigger the beginning or end of a cycle in automated systems, or to check the concentration of chemicals in pharmaceutical applications. These sensors are CE Marked, which means they meet safety standards created by the European Union.
Use a quick-clamp adapter to connect these sensors to quick-clamp sanitary tube fittings on your line.
For technical drawings and 3-D models, click on a part number.
Lg.,


mm
Material

Dia.,


mm

Lg.,


mm
Range
Accuracy
Electrical
Connection
Type
Thread
Type
Automatic

Temp.


Compensation


(ATC)

Range,

°F

Environmental
Rating
Specifications
Met
Each

For Use With Liquids

37
PEEK Plastic
3.6
26
0 to 1,000 mS
0 to 500 mS
0 to 500 µS
±1.5%
±1%
±1.5%
Threaded M12 Plug (One 4-Pole Connection and One 5-Pole Connection)
BSPP

-4° to 302°
IP67, IP69K
3-A Certified 74-07, CE Marked, EHEDG Certified, FDA Compliant 21 CFR 177.2415
0000000
000000000
60
PEEK Plastic
3.6
26
0 to 1,000 mS
0 to 500 mS
0 to 500 µS
±1.5%
±1%
±1.5%
Threaded M12 Plug (One 4-Pole Connection and One 5-Pole Connection)
BSPP

-4° to 302°
IP67, IP69K
3-A Certified 74-07, CE Marked, EHEDG Certified, FDA Compliant 21 CFR 177.2415
0000000
00000000
| | | | |
| --- | --- | --- | --- |
| Optional Quick-Clamp Adapter | 0000000 | Each | 0000000 |