Sanitary Conductivity Sensors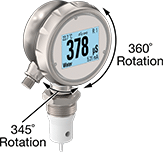 Sensor



Optional
Quick-Clamp
Adapter
Often used to save rinse water in beverage and pharmaceutical lines, these sensors test the amount of chemicals, cleaners, and other substances in liquids by measuring how well the liquid conducts electricity. They're 3-A and European Hygienic Engineering and Design Group (EHEDG) certified, thanks to their design that's easy to keep clean. Highly polished, they limit where bacteria could grow. They also withstand washdowns with hot water, chemicals, and cleaners common to sanitary lines because of their PEEK probe, stainless steel body, and IP ratings. Their IP ratings also mean they're dust tight and won't fail if briefly under water. All are FDA compliant to safely touch food.
These sensors work with IO Link, Hart, and 4-20 mA analog output to connect to remote displays and programmable logic controllers (PLCs), making them good for hard-to-reach areas and frequent application changes. This also means they'll set off alarms and trigger cycles to start and stop in automated systems. With the touchscreen, program each color of the display to alert you to errors, completed cycles, and other events. Both the head and the display rotate to view readings from the best angle.
Highly accurate, these sensors test almost any liquid. They also measure temperature—no need for a separate sensor. To compare readings as temperature changes, they automatically standardize readings at 77° F. All meet European safety standards, since they're CE marked.
Use quick-clamp adapters to connect these sensors to quick-clamp sanitary tube fittings.
For technical drawings and 3-D models, click on a part number.
Lg.,


mm
Material

Dia.,


mm

Lg.,


mm
Range
Accuracy
Electrical
Connection
Type
Thread
Type
Automatic

Temp.


Compensation


(ATC)

Range,

°F

Environmental
Rating
Specifications
Met
Each

For Use With Liquids

37
PEEK Plastic
3.6
26
0 to 1,000 mS
0 to 500 mS
0 to 500 µS
±1.5%
±1%
±1.5%
Threaded M12 Plug (One 4-Pole Connection and One 5-Pole Connection)
BSPP

-4° to 302°
IP67, IP69K
3-A Certified 74-07, CE Marked, EHEDG Certified, FDA Compliant 21 CFR 177.2415
0000000
000000000
60
PEEK Plastic
3.6
26
0 to 1,000 mS
0 to 500 mS
0 to 500 µS
±1.5%
±1%
±1.5%
Threaded M12 Plug (One 4-Pole Connection and One 5-Pole Connection)
BSPP

-4° to 302°
IP67, IP69K
3-A Certified 74-07, CE Marked, EHEDG Certified, FDA Compliant 21 CFR 177.2415
0000000
00000000
| | | | |
| --- | --- | --- | --- |
| Optional Quick-Clamp Adapter | 0000000 | Each | 0000000 |