How to

Identify and Measure Fittings
Pipe size is an industry designation, not the actual size. View information about how to measure threaded and unthreaded pipe and pipe fittings.
Quick-Clamp

High-Vacuum

Fittings for Stainless Steel Tubing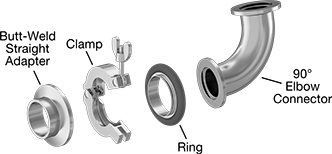 For Use

With:


Fittings with Gasket

End:

Air,

Argon,

Helium,

Nitrogen
All Other

Fittings:

Air
Temperature

Range:

0° to 300° F

Tubing:

Use with

304/304L

or

316/316L

stainless steel
Specifications

Met:

ISO 2861
Instead of a gasket, these fittings have a special ring that is designed for high-vacuum applications, such as vacuum coating and heat treating, leak testing, and analyzing gases. Also known as KF, QF, and NW fittings, they are the most common type of connection in high-vacuum systems. Connect with a clamp and another quick-clamp fitting for fast, easy access to your line. To use fittings in pressure applications, use a pressure-rated ring (sold separately).
304 stainless steel fittings have very good corrosion resistance.
Note: To complete a connection, you'll need two quick-clamp fittings, a ring, and a clamp (all sold separately).
Claw-Clamp

High-Vacuum

Fittings for Stainless Steel Tubing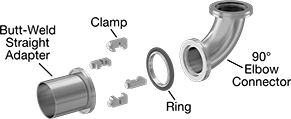 An alternative to bolt-together fittings, these handle larger tube OD sizes and have higher vacuum ratings than quick-clamp fittings. Also known as ISO-K high-vacuum fittings, the clamps have claws that grab hold of fittings with flanged ends. To complete a connection, use a ring and four clamps (sold separately). Not for use in pressure applications.
Double-claw clamps attach to the grooves on the fittings.
Single-claw clamps have a clamp on one end and an exposed bolt on the other. Thread the bolt-end directly into the body of pumps, valves, or other high-vacuum components.
For technical drawings and 3-D models, click on a part number.