Set Screw

Flexible Shaft Couplings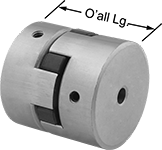 Hubs and Spider Shown Assembled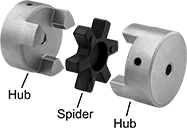 (Each
Component Sold
Separately)
Each hub includes a set screw (unless noted), which bites into your shaft to hold the coupling in place. Also known as Lovejoy® couplings, these three-piece couplings have a spider-shaped cushion between two hubs to reduce shock and handle minor shaft misalignment.
Buna-N spiders provide good vibration damping and chemical resistance. Hytrel spiders provide fair vibration damping and excellent chemical resistance.
For technical drawings and 3-D models, click on a part number.
Steel Hubs and Buna-N Rubber Spiders
Steel Hubs and Hytrel Rubber Spiders
Two-Piece

Shaft Couplings
Install and remove these shaft couplings without disconnecting the shafts, motors, and other attached components—they're made in two pieces so you don't need to slide them onto shaft ends. They're also useful when you have limited access to the ends of the shafts. These couplings clamp onto the shafts, creating a secure hold that won't mar them. Good for high-torque applications, they have a rigid construction. However, their rigidity means these couplings can only connect shafts that are well aligned.
Couplings for keyed shafts have keyways that are cut to standard ANSI dimensions, so they fit snugly on ANSI keyed shafts to eliminate slipping during starts and stops.
Steel couplings are stronger and handle higher torque loads than aluminum and stainless steel couplings.
For technical drawings and 3-D models, click on a part number.