Set Screw

Flexible Shaft Couplings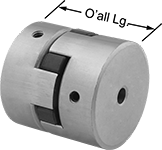 Hubs and Spider Shown Assembled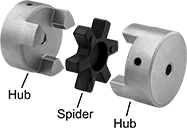 (Each
Component Sold
Separately)
Each hub includes a set screw (unless noted), which bites into your shaft to hold the coupling in place. Also known as Lovejoy® couplings, these three-piece couplings have a spider-shaped cushion between two hubs to reduce shock and handle minor shaft misalignment.
Buna-N spiders provide good vibration damping and chemical resistance. Hytrel spiders provide fair vibration damping and excellent chemical resistance.
For technical drawings and 3-D models, click on a part number.
Steel Hubs and Buna-N Rubber Spiders
Steel Hubs and Hytrel Rubber Spiders
High-Speed

Vibration-Damping

Flexible Shaft Couplings

Components of a Coupling Shown Assembled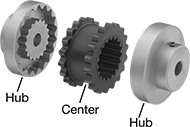 (Each
Component Sold
Separately)
Use these gear-shaped couplings for high-speed and high-torque applications. A rubber center allows flexing so couplings can take on multiple types of misalignment while damping vibration and shock. With no metal-to-metal contact, there's no need for lubrication. Fasten to your shafts by tightening the set screws, which bite into the shaft to hold it.
A complete coupling consists of two hubs and one center (each component sold separately).
Hubs have a keyway, except hubs for 1/4" and 3/8" shaft dia. do not have a keyway.
For technical drawings and 3-D models, click on a part number.