How to

Identify and Measure Fittings
Pipe size is an industry designation, not the actual size. View information about how to measure threaded and unthreaded pipe and pipe fittings.
UV-Resistant

Polypropylene Pipe for Chemicals
This polypropylene pipe resists the damaging effects of ultraviolet light, so it's suitable for outdoor use. It has the chemical resistance to withstand a wide variety of acids, solvents, and other harsh substances. Pipe has thick, strong walls for heavy duty chemical processing applications. It meets ASTM D4101 specifications and testing requirements for material quality.
Warning: Never use plastic pipe fittings and pipe with compressed air or gas.
Sealants cannot be sold to Colorado, Connecticut, District of Columbia, Delaware, Illinois, Indiana, Massachusetts, Maryland, Maine, Michigan, New Hampshire, New Jersey, Northern Virginia, New York, Ohio, Pennsylvania, Rhode Island, or Utah due to local VOC (Volatile Organic Compounds) regulations.
For technical drawings and 3-D models, click on a part number.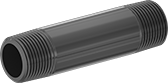 For Use

With:

Acetic Acid

(5%),

Calcium

Chloride,

Deionized

Water,

Hydrochloric Acid

(10%),

Phosphoric Acid

(85%),

Salt

Water,

Sodium

Chloride,

Sodium

Hydroxide,

Sulfuric

Acid,

Water

Max.

Temperature:

180° F

Specifications

Met:

ASME

B1.20.1,

ASTM D4101

Fittings:

Use Schedule 80 Polypropylene Plastic

Flanges:

Use Class 150 Polypropylene Plastic
To prevent leaks in threaded connections, apply a non-hardening, plastic-compatible sealant to the male threads. Tape or sealants with PTFE are not recommended for plastic-to-plastic threaded connections. When making a threaded connection be careful not to overtighten the threads. To prevent cracks and leaks, finger tighten the fitting, then wrench-tighten one to two turns.
Pipe that meets ASME B1.20.1 adheres to quality specifications for thread dimensions.
Pipe
Size

OD
ID
Wall


Thick.

Material
Color

Max.

Pressure
Each
Each

NPT Threads

1/4

35/64

"
0.302"
0.119"
Polypropylene Plastic

Black
20 psi @ 72° F
0000000
000000
0000000
000000

1/2

27/32

"
0.546"
0.147"
Polypropylene Plastic

Black
20 psi @ 72° F
0000000
00000
0000000
00000

3/4

1

3/64

"
0.742"
0.154"
Polypropylene Plastic

Black
20 psi @ 72° F
0000000
00000
0000000
00000
1

1

5/16

"
0.957"
0.179"
Polypropylene Plastic

Black
20 psi @ 72° F
0000000
00000
0000000
00000
1

1/4

1

21/32

"
1.278"
0.191"
Polypropylene Plastic

Black
20 psi @ 72° F
0000000
00000
0000000
00000
1

1/2

1

29/32

"
1.5"
0.2"
Polypropylene Plastic

Black
20 psi @ 72° F
0000000
00000
0000000
00000
2

2

3/8

"
1.939"
0.218"
Polypropylene Plastic

Black
20 psi @ 72° F
0000000
00000
0000000
00000
3

3

1/2

"
2.9"
0.3"
Polypropylene Plastic

Black
20 psi @ 72° F
0000000
00000
0000000
000000
4

4

1/2

"
3.826"
0.337"
Polypropylene Plastic

Black
20 psi @ 72° F
0000000
000000
0000000
000000
| | | | |
| --- | --- | --- | --- |
| Non-Hardening Thread Sealant (8-oz. Brush-Top Can) | 000000 | Each | 000000 |