How to

Identify and Measure Fittings
Pipe size is an industry designation, not the actual size. View information about how to measure threaded and unthreaded pipe and pipe fittings.
Standard-Wall

Plastic Pipe Fittings for Water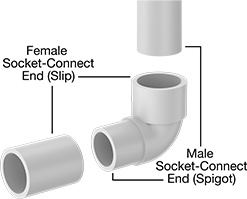 Connect these fittings to Schedule 40 plastic pipe–they are the industry standard for residential and commercial low-pressure plumbing and water supply applications. They are plastic for good corrosion resistance.
Fittings for drinking water meet NSF/ANSI Standard 61.
Attach socket-connect ends to unthreaded pipe or another socket-connect fitting with a PVC primer and cement (also known as solvent weld).
To prevent leaks in threaded connections, apply a sealant to the male threads. For plastic threads, apply a non-hardening, plastic-compatible sealant. Tape or sealants with PTFE are not recommended for plastic-to-plastic connections. Fittings that meet ASTM D1784, ASTM D1785, and ASTM D4066 adhere to specifications and testing requirements for material quality.
Note: For fittings that are not rated for pressure, you can use the pressure rating of the plastic pipe as a reference. Threaded fittings are limited to 50% of the rated pressure of the pipe.
Warning: Never use plastic pipe fittings and pipe with compressed air or gas.
For technical drawings and 3-D models, click on a part number.
Side‐Outlet Elbow Connectors, Female Socket Connect

For Use

With:

Drinking

Water,

Water
Maximum

Temperature:

140° F

Specifications

Met:

ASTM

D1784,

NSF/ANSI 61

Pipe Nipples and

Pipe:

Use Schedule 40 PVC Plastic

Flanges:

Use Schedule 40 PVC Plastic
Side‐Outlet Elbow Adapters, Female Socket Connect × Female Threaded Pipe

For Use

With:

Drinking

Water,

Water
Maximum

Temperature:

140° F

Specifications

Met:

ASTM

D1784,

NSF/ANSI 61

Pipe Nipples and

Pipe:

Use Schedule 40 PVC Plastic

Flanges:

Use Schedule 40 PVC Plastic