How to

Identify and Measure Fittings
Pipe size is an industry designation, not the actual size. View information about how to measure threaded and unthreaded pipe and pipe fittings.
CPVC Pipe Fittings for Hot Water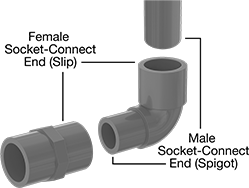 Made of CPVC, these fittings can handle high temperatures up to 200° F. They have thick, strong walls to handle heavy duty industrial plumbing and water supply applications, such as water processing and waste water treatment. They also have good corrosion resistance. These fittings are comparable to Corzan. Some meet ASTM D1784 specifications and testing requirements for material quality.
Fittings for drinking water meet NSF/ANSI Standard 61.
Note: For fittings that are not rated for pressure, you can use the pressure rating of the plastic pipe as a reference. Threaded fittings are limited to 50% of the rated pressure of the pipe.
Warning: Never use plastic pipe fittings and pipe with compressed air or gas.
For technical drawings and 3-D models, click on a part number.
Cross Connectors, Female Socket Connect

For Use

With:

Acetic Acid

(10%),

Calcium

Chloride,

Deionized

Water,

Drinking

Water,

Hydrochloric Acid

(25%),

Nitric Acid

(10%),

Phosphoric Acid

(85%),

Salt

Water,

Sodium Hydroxide

(50%),

Sulfuric Acid

(75%),

Water
Maximum

Temperature:

200° F

Specifications

Met:

ASTM

D1784,

NSF/ANSI 61

Pipe Nipples and

Pipe:

Use Schedule 80 CPVC Plastic

Flanges:

Use Class 150 CPVC Plastic
Attach socket-connect ends to unthreaded pipe or another socket-connect fitting with a CPVC primer and cement (also known as solvent weld).
Pipe
Size

Socket
Depth
Material
Schedule
Color

Max.


Pressure
Each

1/4

5/8

"
CPVC Plastic
80

Light Gray
Not Rated
00000000
000000

1/2

29/32

"
CPVC Plastic
80

Light Gray
Not Rated
00000000
00000

3/4

1"
CPVC Plastic
80

Light Gray
Not Rated
00000000
00000
1

1

1/8

"
CPVC Plastic
80

Light Gray
Not Rated
00000000
00000
1

1/2

1

13/32

"
CPVC Plastic
80

Light Gray
Not Rated
00000000
00000
2

1

1/2

"
CPVC Plastic
80

Light Gray
Not Rated
00000000
00000
2

1/2

1

25/32

"
CPVC Plastic
80

Light Gray
Not Rated
00000000
000000
3

1

7/8

"
CPVC Plastic
80

Light Gray
Not Rated
00000000
000000
4

2

1/4

"
CPVC Plastic
80

Light Gray
Not Rated
00000000
000000
| | | | |
| --- | --- | --- | --- |
| Pipe Cement for Max. Pipe Size 6 | 00000000 | Each | 000000 |