How to

Identify and Measure Fittings
Pipe size is an industry designation, not the actual size. View information about how to measure threaded and unthreaded pipe and pipe fittings.
CPVC Pipe Fittings for Hot Water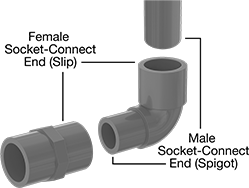 Made of CPVC, these fittings can handle high temperatures up to 200° F. They have thick, strong walls to handle heavy duty industrial plumbing and water supply applications, such as water processing and waste water treatment. They also have good corrosion resistance. These fittings are comparable to Corzan. Some meet ASTM D1784 specifications and testing requirements for material quality.
Fittings for drinking water meet NSF/ANSI Standard 61.
Note: For fittings that are not rated for pressure, you can use the pressure rating of the plastic pipe as a reference. Threaded fittings are limited to 50% of the rated pressure of the pipe.
Warning: Never use plastic pipe fittings and pipe with compressed air or gas.
Sealants cannot be sold to Colorado, Connecticut, District of Columbia, Delaware, Illinois, Indiana, Massachusetts, Maryland, Maine, Michigan, New Hampshire, New Jersey, Northern Virginia, New York, Ohio, Pennsylvania, Rhode Island, or Utah due to local regulatory limits on VOCs (Volatile Organic Compounds).
For technical drawings and 3-D models, click on a part number.