High-Temperature

CPVC Sheets and Bars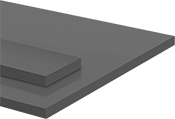 Color:

Gray
Temperature

Range:

32° to 200° F

Tensile

Strength:

7,090-7,

750 psi

(Good)

Impact

Strength:

1-2

ft.

-

lbs./in.

(Poor)

Hardness:

Rockwell

R118-R119

(Hard)

For Use

Outdoors:

No
Specifications

Met:

UL 94 V-0
Use these CPVC sheets and bars in place of PVC when resistance to high temperatures is required. They resist acids and alkalies, and are widely used to make parts and tanks for use in chemical-processing applications. CPVC is easy to thermoform and it's an excellent electrical insulator.
Chemical-Resistant

Plastic Selector Packs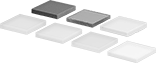 You'll get one piece of each material listed.
For technical drawings and 3-D models, click on a part number.
Material

Wd.

Lg.

Pkg.




Qty.

Pkg.

CPVC Plastic, FEP Plastic, Polypropylene Plastic, PPS Plastic, PVC Type 1 Plastic, PVDF Plastic, Teflon® PTFE Plastic
2"
2"
7
0000000
000000