About Actuated
On/Off

Valves
Solenoid
On/Off

Valves for Chemicals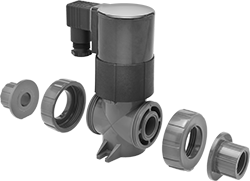 Exploded View
To stand up to aggressive and corrosive solutions in chemical-processing applications, these valves have a plastic body and a fluoroelastomer seal. They operate on electricity to automatically start and stop flow. Valves have union fittings on each end that separate into multiple pieces for easy installation and removal from your pipeline. They come with both threaded NPT fittings and unthreaded socket-connect female fittings.
All are normally closed unless actuated. Valves don't require a minimum pressure drop between the inlet and outlet for operation. The actuator is directly mounted to the valve body to minimize movement and reduce wear. Valves meet NEMA 4 for resistance to washdowns, splashing water, corrosive liquid, and dust.
Flow coefficient (Cv) is the amount of water (in gallons per minute) at 60° F that will flow through a fully open valve with a difference of 1 psi between the inlet and the outlet.
For technical drawings and 3-D models, click on a part number.
Light Gray CPVC Plastic Body with DIN Connection
For Use

With:

Water,

Diesel

Fuel,

Hydrochloric

Acid,

Isopropyl

Alcohol,

Kerosene,

Nitric

Acid,

Salt

Water,

Sodium

Hypochlorite,

Sulfuric

Acid,

Citric

Acid,

Phosphoric Acid
Diaphragm

Material:

Fluoroelastomer Rubber
Actuator Housing

Material:

Plastic
Specifications

Met:

CSA Certified
Pipe
Size

Gender
Thread
Type
Flow
Coefficient


(Cv)

Max.


Pressure
Pressure
Drop

Temp.




Range,




°F

Valve


Lg.

O'all




Ht.

No.

of
Mounting
Slots
Mounting
Slot


Lg.

Fasteners
Included
Environmental
Rating
Each

1/2

Female
NPT

2.3
120 psi @ 70° F
Zero Pressure Drop
35° to 190°
5

5/16

"
6

3/8

"
2

1/4

"
No
NEMA 4

0000000
0000000

3/4

Female
NPT

3.2
120 psi @ 70° F
Zero Pressure Drop
35° to 190°
5

1/2

"
6

5/8

"
2

1/4

"
No
NEMA 4

0000000
000000
1

Female
NPT

3.8
120 psi @ 70° F
Zero Pressure Drop
35° to 190°
5

1/2

"
6

5/8

"
2

1/4

"
No
NEMA 4

0000000
000000