Light Technology

Light Technology
Overall Length

Overall Length
DFARS (Defense Acquisition Regulations Supplement)

DFARS

(Defense

Acquisition

Regulations

Supplement)
Light Lens Construction

Light Lens Construction
REACH (Registration, Evaluation, Authorization and Restriction of Chemicals)

REACH

(Registration,




Evaluation,

Authorization
and Restriction of

Chemicals)
RoHS (Restriction of Hazardous Substances)

RoHS

(Restriction

of
Hazardous

Substances)
Lenses for Ceiling Lights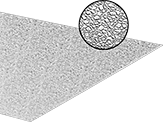 Solid with Cracked Ice Pattern
Lenses disperse light to reduce glare and protect bulbs from damage. Cut to size using a band saw or shears.
Solid lenses keep bulbs hidden and distribute light evenly. Lenses with a prismatic or cracked ice pattern distribute light better than smooth lenses. Acrylic lenses won't turn yellow over time.
For technical drawings and 3-D models, click on a part number.