About Durometer Hardness Scales
Crane Bumpers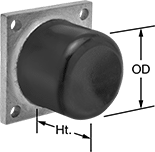 1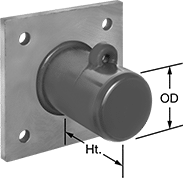 2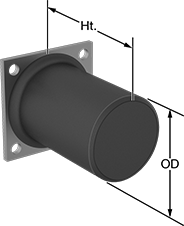 3
Designed to withstand repeated heavy hits on bridge or ceiling cranes, these bumpers protect walls or beams as well as extend crane life. Made of polyurethane, all are abrasion resistant and are reinforced with a steel base plate for strength. These bumpers have either a hard or medium-hard rating to withstand high levels of impact. They're nonmarking and can be used outdoors. Mount them with screws.
Style 2 bumpers have a retaining loop for attaching a cable or lanyard.
Style 3 bumpers are for use with high-speed cranes that require greater deflection lengths.
For technical drawings and 3-D models, click on a part number.
OD

Ht.

Max.


Dynamic


Load,

ft.-lbs.

Dia.

Ctr.-to-Ctr.

Lg.

Wd.

Thick.

Retaining
Loop
ID

Temp.




Range,




°F

For
Use
Outdoors
Hardness
Rating
Hardness
Nonmarking
Each

Black Polyurethane Rubber with Steel Base Plate

1

5/8

"
1

1/4

"
30

7/32

"
1

37/64

"
2"
2"

3/16

"
__
-60° to 220°
Yes
Hard
Durometer 80A
Yes
0000000
000000
2"
1

3/4

"
60

1/4

"
1

31/32

"
2

1/2

"
2

1/2

"

3/16

"
__
-60° to 220°
Yes
Hard
Durometer 80A
Yes
0000000
00000
2

1/2

"
2"
230

1/4

"
2

31/64

"
3"
3"

1/4

"
__
-60° to 220°
Yes
Hard
Durometer 80A
Yes
0000000
000000
3

1/4

"
2

1/2

"
220

3/8

"
3

5/32

"
4"
4"

1/4

"
__
-60° to 220°
Yes
Hard
Durometer 80A
Yes
0000000
000000
4"
3

1/4

"
980

3/8

"
3

15/16

"
5"
5"

5/16

"
__
-60° to 220°
Yes
Hard
Durometer 80A
Yes
0000000
000000
5"
4"
900

7/16

"
4

59/64

"
6

1/4

"
6

1/4

"

5/16

"
__
-60° to 220°
Yes
Hard
Durometer 80A
Yes
0000000
000000
8"
6

1/2

"
7,840

9/16

"
7

7/8

"
10"
10"

3/8

"
__
-60° to 220°
Yes
Hard
Durometer 80A
Yes
00000000
000000
12

1/2

"
10"
29,400

13/16

"
12

13/32

"
15

3/4

"
15

3/4

"

1/2

"
__
-60° to 220°
Yes
Hard
Durometer 80A
Yes
00000000
00000000

Red Polyurethane Rubber with Steel Base Plate

2"
3"
310

9/16

"
3"
5"
5"

3/8

"

3/8

"
-60° to 220°
Yes
Hard
Durometer 90A
Yes
00000000
000000
3"
4

1/2

"
520

9/16

"
4

1/2

"
6

1/2

"
6

1/2

"

1/2

"

1/2

"
-60° to 220°
Yes
Hard
Durometer 90A
Yes
0000000
000000
4"
6"
2,480

9/16

"
6"
8"
8"

1/2

"

1/2

"
-60° to 220°
Yes
Hard
Durometer 90A
Yes
0000000
000000
5"
7

1/2

"
2,400

9/16

"
7

1/2

"
10"
10"

1/2

"

3/4

"
-60° to 220°
Yes
Hard
Durometer 90A
Yes
0000000
000000

Black Polyurethane Rubber with Steel Base Plate

80mm
80mm
270

7/16

"
80mm
4"
4"

1/4

"
__
-60° to 220°
Yes
Medium Hard
Durometer 60A
Yes
00000000
000000
80mm
120mm
410

7/16

"
80mm
4"
4"

1/4

"
__
-60° to 220°
Yes
Medium Hard
Durometer 60A
Yes
00000000
000000
100mm
100mm
530

9/16

"
100mm
5"
5"

5/16

"
__
-60° to 220°
Yes
Medium Hard
Durometer 60A
Yes
0000000
000000
100mm
150mm
800

9/16

"
100mm
5"
5"

5/16

"
__
-60° to 220°
Yes
Medium Hard
Durometer 60A
Yes
00000000
000000
125mm
125mm
1,050

11/16

"
125mm
6

1/4

"
6

1/4

"

5/16

"
__
-60° to 220°
Yes
Medium Hard
Durometer 60A
Yes
00000000
000000
125mm
187.5mm
1,580

11/16

"
125mm
6

1/4

"
6

1/4

"

5/16

"
__
-60° to 220°
Yes
Medium Hard
Durometer 60A
Yes
00000000
000000
160mm
160mm
2,210

11/16

"
160mm
8"
8"

3/8

"
__
-60° to 220°
Yes
Medium Hard
Durometer 60A
Yes
00000000
000000
160mm
240mm
3,310

11/16

"
160mm
8"
8"

3/8

"
__
-60° to 220°
Yes
Medium Hard
Durometer 60A
Yes
00000000
000000