System of Measurement

System of Measurement
Square Drive Size

Square Drive Size

Opening Shape

Opening Shape
Individual/Set

Individual/Set
Offset Socket Style

Offset Socket Style
For Drive Style

For Drive Style
External
Hex
External
Square
External


12-

Point
DFARS (Defense Acquisition Regulations Supplement)

DFARS

(Defense

Acquisition
Regulations

Supplement)
Tight-Clearance

Offset Sockets

Often used with an extension, these sockets turn fasteners and fittings in obstructed areas that a regular socket can't reach. They are also known as crowfoot wrenches.
Size
Overall


Lg.

Thick.

Center-to-Center




Lg.

Material
Each
1

3/16

"
2

3/4

"

13/32

"
1

3/4

"
Chrome-Plated Steel
0000000
000000
Secure-Grip

Tight-Clearance

Offset Sockets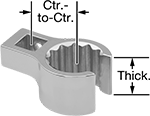 The opening makes more contact with fasteners for a better grip than standard open-end sockets. Also known as flare-nut or line wrench sockets, they're often used with flared tube fittings and fuel and hydraulic lines.
12-point secure-grip sockets quickly position on hex fasteners.
Size
Overall


Lg.

Thick.

Center-to-Center




Lg.

Material
Each
1

3/16

"
2

1/2

"

29/32

"
1

3/16

"
Chrome-Plated Steel
0000000
000000