Crucibles

A

B

C

D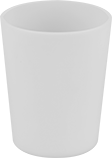 E

F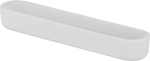 G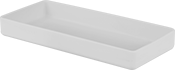 H
Mix and melt small quantities of powders and chemicals.
High-purity alumina crucibles stand up to alkalies and other flux. They also withstand higher temperatures than porcelain and PTFE plastic crucibles, making them best for high heat applications.
Optional lids are sold separately.
Use marking ink (sold separately) to identify porcelain crucibles in high-heat applications. The marked surface must be heat-treated to become permanent. Apply this ink with a pen or a brush.
High-Temperature

Graphite Melting Pots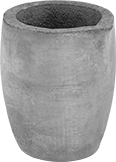 These pots withstand temperatures up to 2500° F to melt metal such as cast iron, copper, and gold. They are glazed to resist wear, cracking, and oxidation. Heat over burners, stoves, and open flame. Stir contents periodically to prevent damage to the inside of the pot.
Crucible


No.

Cap.

Max.




Temp.,

°F

ID
Inside


Ht.

Dia.

Ht.

Material
Each
0000
4.4 oz.
2500°
2"
2

1/2

"
2

3/4

"
3

1/4

"
Glazed Graphite
0000000
000000
3
24 oz.
2500°
3

1/2

"
4

1/2

"
4

1/2

"
5

1/4

"
Glazed Graphite
0000000
00000
6
61.4 oz.
2500°
4

3/4

"
6

1/4

"
5

3/4

"
6

3/4

"
Glazed Graphite
0000000
00000
10
73.6 oz.
2500°
4

3/4

"
7

1/2

"
6

1/4

"
8

1/4

"
Glazed Graphite
0000000
00000
16
115.2 oz.
2500°
5

1/2

"
8

3/4

"
7

1/4

"
9

1/2

"
Glazed Graphite
0000000
000000
30
1.7 gal.
2500°
7"
10

1/2

"
8

3/4

"
11

1/2

"
Glazed Graphite
0000000
000000