High-Temperature

Steam-Resistant

Metallic Pipe Gaskets

Gasket Shown with
Flat-Surface
Pipe Flange

Gasket Shown with
Raised-Surface
Pipe Flange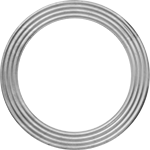 Corrugated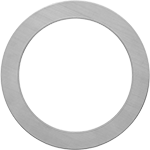 Smooth
Made of 110 copper, these gaskets handle steam applications up to 600° F. They are electrically conductive and resist water, Freon, and fuel oil. The metal construction provides structural strength. These gaskets can be used with both flat-surface and raised-surfaces pipe flanges; they fit the surface inside the bolt holes and do not interfere with the bolt connection. Gaskets are compatible with low-pressure pipe flanges; all gasket specifications are sized to meet ANSI standards.
Corrugated gaskets conform to rough and uneven surfaces when put under low pressure for a tight seal.
Smooth gaskets can withstand higher pressure than the corrugated gaskets.
For technical drawings and 3-D models, click on a part number.
For Pipe
Size

ID
OD

Thick.

Max.




Pressure,

psi

Max.




Temperature,

°F

Material
Each

Corrugated

1

1

1/4

"
2

5/8

"
0.040"
500
600°
110 Copper

0000000
00000
1

1/2

1

29/32

"
3

3/8

"
0.040"
500
600°
110 Copper

0000000
0000
2

2

3/4

"
4

1/8

"
0.040"
500
600°
110 Copper

0000000
0000
2

1/2

3

1/4

"
4

7/8

"
0.040"
500
600°
110 Copper

0000000
00000
3

4"
5

3/8

"
0.040"
500
600°
110 Copper

0000000
00000
4

5"
6

7/8

"
0.040"
500
600°
110 Copper

0000000
00000
6

7

3/16

"
8

3/4

"
0.040"
500
600°
110 Copper

0000000
00000

Smooth

1

1

1/4

"
2

5/8

"
0.063"
1,500
600°
110 Copper

0000000
0000
1

1/2

1

29/32

"
3

3/8

"
0.063"
1,500
600°
110 Copper

0000000
00000
2

2

3/4

"
4

1/8

"
0.063"
1,500
600°
110 Copper

0000000
00000
2

1/2

3

1/4

"
4

7/8

"
0.063"
1,500
600°
110 Copper

0000000
00000
3

4"
5

3/8

"
0.063"
1,500
600°
110 Copper

0000000
00000
4

5"
6

7/8

"
0.063"
1,500
600°
110 Copper

0000000
00000
6

7

3/16

"
8

3/4

"
0.063"
1,500
600°
110 Copper

0000000
00000