Extreme
Cold-Protection

Gloves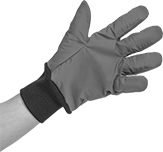 Knit Cuff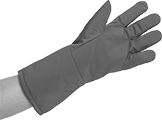 Open Cuff
Keep hands warm in temperatures as low as -320° F without sacrificing dexterity. Also known as cryogenic gloves, these can be used to handle dry ice. They also have a breathable moisture-wicking liner.
Use gloves with knit cuffs for a secure fit. Gloves with open cuffs are more convenient to put on and take off than other gloves.
Water-Resistant

Extreme

Cold-Protection

Gloves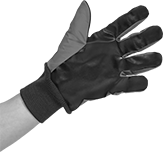 Full Hand with Knit Cuff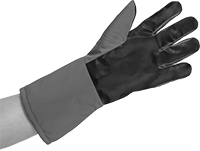 Full Hand with Open Cuff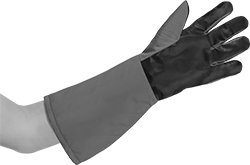 Full Hand and Arm with Open Cuff
Wear these gloves to keep your hands dry and warm at temperatures as low as -320° F. Also known as cryogenic gloves, they have a multi-layered nylon construction for thermal insulation at extremely low temperatures and a seamless water-resistant liner to protect from spills and splashes. They're often used to handle samples stored in dry ice and to dispense liquid nitrogen. However, they're not meant to be completely submerged in liquid nitrogen. A breathable inner lining wicks moisture away from your skin for dry, comfortable wear over long periods. The coated palm makes it easier to grip small objects, transfer samples, and open jars. These gloves meet European safety and performance standards for protective gloves.
Gloves with a knit cuff fit snugly and securely around your wrist.
Gloves with an open cuff are easier to slide on and off than gloves with knit cuffs.