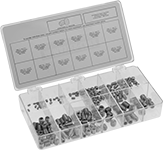 Cup Point
with Serrations
Set screws exert pressure at the tip to hold objects in place. All have a cup point with a thin edge that digs into the contact surface for a secure hold. Length listed is the overall length.
Set screws with serrations on the cup edge grip the material surface to resist loosening.
Black-oxide alloy steel screws resist corrosion in dry environments.
18-8 stainless steel screws are chemical resistant and may be mildly magnetic.
Number
of Pieces
Screw Sizes Included
Locking
Type
Drive
Style

Container
Type
Specifications
Met
Each

Inch

200
6-32 to

3/8

"-24 in

3/16

" to

1/2

" Lengths
__
Hex

Plastic Box
__
000000000
000000
300
8-32 to

1/2

"-13 in

3/16

" to

1/2

" Lengths
Serrations
Hex

Plastic Box
__
000000000
000000
336
4-40 to 10-24 in

1/8

" to

3/8

" Lengths
__
Hex

Metal Box
__
000000000
00000
2,100
4-40 to

3/8

"-16 in

1/8

" to

3/4

" Lengths
__
Hex

Metal Box
__
000000000
000000
200
6-32 to

3/8

"-24 in

3/16

" to

1/2

" Lengths
__
Hex

Plastic Box
__
000000000
00000
900
4-40 to 10-32 in

1/8

" to

1/2

" Lengths
__
Hex

Plastic Box
__
000000000
000000
2,100
4-40 to

3/8

"-16 in

1/8

" to

3/4

" Lengths
__
Hex

Metal Box
__
000000000
000000

Metric

1,100
M3 to M8 in 3 mm to 12 mm Lengths
__
Hex

Plastic Box
DIN 916
000000000
000000
120
M4 to M8 in 5 mm to 12 mm Lengths
__
Hex

Plastic Box
DIN 916
000000000
00000