Current Relays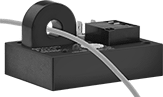 Prevent AC current overload in equipment such as motors and heaters.
These relays sense current flowing through wires routed through the opening. If the current exceeds a set trip point, the relay trips and starts the adjustable delay timer. After the timer's cycle, the relay cuts power to the equipment to protect against overload. Once current drops below the trip point, the relay allows power to flow again to the equipment.
To determine the current trip range for more than one wire, divide the listed trip range by the number of wires passed through the opening.
Current
Trip Range
for One

Wire,

A
Switch
Industry
Designation
Resistive
Load
Delay
Time
Range
For

Max.


Wire


Dia.

Ht.

Wd.

Dp.

Input
AC
Voltage
Wire
Connection
Specifications
Met
Mount
Type
Fasteners
Included
Mounting
Hole


Dia.

No.

of
Mounting
Holes
Each

Measures Current

0.1-1
SPDT

10 A @ 240 V AC
0.5-6 sec.
0.5"
2.13"
3.5"
2.5"
120

1/4

" Quick-Disconnect Terminals
UL Recognized Component
Screw On
No
0.19"
2
00000000
0000000
1-10
SPDT

10 A @ 240 V AC
0.5-6 sec.
0.5"
2.13"
3.5"
2.5"
120

1/4

" Quick-Disconnect Terminals
UL Recognized Component, C-UL Recognized Component
Screw On
No
0.19"
2
00000000
000000
3-30
SPDT

10 A @ 240 V AC
0.5-6 sec.
0.5"
2.13"
3.5"
2.5"
120

1/4

" Quick-Disconnect Terminals
UL Recognized Component, C-UL Recognized Component
Screw On
No
0.19"
2
00000000
000000
6-60
SPDT

10 A @ 240 V AC
0.5-6 sec.
0.5"
2.13"
3.5"
2.5"
120

1/4

" Quick-Disconnect Terminals
UL Recognized Component, C-UL Recognized Component
Screw On
No
0.19"
2
00000000
000000
10-100
SPDT

10 A @ 240 V AC
0.5-6 sec.
0.5"
2.13"
3.5"
2.5"
120

1/4

" Quick-Disconnect Terminals
UL Recognized Component, C-UL Recognized Component
Screw On
No
0.19"
2
00000000
000000